Green Beans with Caramelized Pecans
Active time: 45 min
Total time: 45 min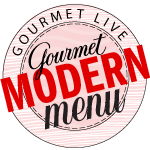 Green beans have a certain suave, slender elegance that makes them a classic accompaniment to rosy-red roast beef. But too often, they get short shrift: a quick drizzle of butter, a squirt of lemon, and onto the table they go. We suggest you coddle them a little this year. Try tossing them in a hot skillet with shallots and pecans that get caramelized in buttery brown sugar, and you'll see just how special green beans can be.
This recipe is part of our
Gourmet
Modern Menu: A Christmas Classic.
Click here
to view the full menu.
INGREDIENTS:
1/2 cup pecan halves and pieces (2 ounces)

2 1/2 pounds green beans, trimmed

5 tablespoons unsalted butter

1/3 cup shallot, finely chopped (about 2 medium)

3 tablespoons packed light brown sugar

1 teaspoon kosher salt, or to taste

1/2 teaspoon freshly ground black pepper, or to taste
Heat oven to 350°F with rack in middle.

Spread out pecans on a rimmed sheet pan and bake in oven until pale golden on inside, about 6 to 8 minutes. Cool and coarsely chop.

Have ready a colander submerged in a large bowl of ice water. Cook beans in a 6- to 8-quart pot of well-salted boiling water, uncovered, until just tender, 5 to 8 minutes. Using a large slotted spoon and/or tongs, transfer beans to colander in ice water to stop cooking, then drain well and dry on towels.

Heat butter in a 12- to 14-inch deep heavy skillet (preferably straight-sided) over moderately high heat until foam subsides, then add shallot and cook, stirring until pale golden, 2 to 3 minutes.

Reduce heat to medium and stir in sugar until almost dissolved, then cook pecans, stirring, 1 minute.

Add green beans, kosher salt, and pepper, and sauté beans, turning them with tongs, until heated through, 2 to 4 minutes. Transfer to a platter and serve.
COOKS' NOTES:
Beans can be trimmed 1 day ahead and kept chilled in a sealable plastic bag.

Nuts can be lightly toasted 1 day ahead and kept chilled, covered.