Cremini Meringue Mushrooms
Makes about 25 meringue mushrooms
Active time: 1 hr
Total time: 4 hr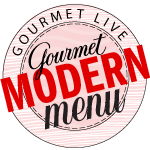 Mushrooms made from meringue are the traditional edible decoration for a Yule log cake, and their cute quotient is high—they never fail to charm young and old alike. Saying they're edible is like calling a chocolate truffle edible; if you love crisp meringue, you'll adore the crunchy, airy contrast the mushrooms provide for our creamy
Tiramisu Yule Log
cake. Classically they're made from a white meringue, but we couldn't resist coloring ours with a little added cocoa to make the mushrooms look like cremini or baby bellas.
This recipe is part of our
Gourmet
Modern Menu: A Christmas Classic.
Click here
to view the full menu.
INGREDIENTS:
3 large egg whites

1/4 teaspoon cream of tartar

Pinch of salt

3/4 cup granulated sugar

1 teaspoon vanilla

2 tablespoons unsweetened cocoa powder (preferably Hershey's; not Dutch-process)

3 ounces bittersweet or semi-sweet chocolate, melted (see Cooks' Notes)
EQUIPMENT:
Stand mixer; large pastry bag fitted with 1/2-inch plain round tip; 2 large baking sheets; small offset spatula (optional, but helpful)
Heat oven to 200°F with racks in upper and lower thirds. Line 2 large baking sheets with parchment paper.

Beat egg whites with cream of tartar and salt in bowl of stand mixer on high speed until they just hold soft peaks. Beat in sugar, 2 tablespoons at a time, beating well after each addition, and continue to beat at high speed until meringue is very stiff, about 2 minutes. Beat in vanilla and beat again until very stiff.

Sift cocoa over meringue, and fold it in gently but thoroughly.

Spoon meringue into a pastry bag fitted with tip. Holding bag vertically, about 1/2 inch above baking sheet, pipe meringue into 25 mounds, ranging in size from about 1 1/2 to 2 inches in diameter, to resemble mushroom caps.

Still holding pastry bag vertically, pipe remaining meringue vertically into 25 "stems," 1 1/4- to 1 1/2 -inch-long lengths (make different lengths), making each base about 1 inch in diameter and tapering top end by pulling up on bag. (Pipe extra caps and stems with any remaining meringue in case of breakage.)

With a finger dipped in water, gently tamp down any peaks of meringue on caps to make a smooth mushroom cap.

Bake, switching position of sheets halfway through, until mushrooms caps are crisp and firm to touch, about 1 hour 45 minutes.

Turn off oven, then leave meringues in oven, with door closed, 30 minutes to dry. Slide parchment with meringues from baking sheets onto racks to cool. Cool completely.

With tip of a sharp paring knife, cut a small hollow the diameter of the tapered top of mushroom "stem" in center of the underside (flat side) of each mushroom cap.

Spread chocolate generously over flat bottom of a cap with offset spatula or back of spoon, then insert narrow end of stem. Let cap rest, stem end up, on a tray or baking sheet. Attach remaining stems to remaining caps, and let stand, stem ends up, at cool room temperature until chocolate is set, about 1 hour.
COOKS' NOTES:
To melt chocolate, finely chop it then put it in a microwave-safe bowl and microwave at 50 percent power for short intervals (about 30 seconds), stirring after each interval, until smooth. Or, melt finely chopped chocolate in a dry metal bowl set over a saucepan of barely simmering water, stirring occasionally, until smooth.

Meringue mushrooms can be made 1 day ahead and kept between sheets of wax paper in airtight cookie tins.