Mashed Potato and Cauliflower Gratin
Active time: 1 hr
Total time: 2 hr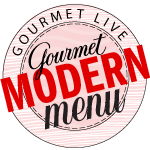 We love mashed potatoes in every way possible, but we're extremely partial to this incarnation paired with cauliflower. Since cheese is a natural with both potatoes and cauliflower, incorporating a little Fontina
and
parmesan into the purée adds a nutty goodness, without overpowering it with richness.
This recipe is part of our
Gourmet
Modern Menu for Thanksgiving for 2 or 20.
Click here
to view the full menu.
INGREDIENTS:
2 pounds russet (baking) potatoes, peeled and cut into 1-inch pieces

Salt

1 1/4 cups whole milk, divided

1 stick (8 tablespoons) unsalted butter, divided

4 ounces coarsely grated Italian Fontina or Gruyère (about 1 cup packed)

1/4 teaspoon freshly ground black pepper

1 (2- to 2 1/2-pound) head cauliflower, cut into 1 1/2-inch pieces, including stems and core

3 garlic cloves, peeled and smashed

3/4 to 1 cup grated Parmigiano-Reggiano, divided
Put potatoes and 2 teaspoons salt in a large heavy saucepan and generously cover with cold water (about 2 1/2 quarts). Bring to a boil, then reduce heat, and simmer, partially covered, until potatoes are tender, 15 to 20 minutes.

While potatoes are boiling, heat 3/4 cup milk and 3 tablespoons butter in a small saucepan until butter is melted and milk is hot but not boiling. Keep warm off heat, covered.

Drain potatoes well in a sieve or colander and return to hot saucepan. Add milk mixture, Fontina, and pepper, and mash with a potato masher or fork to desired consistency. Season with salt and keep warm, covered.

Bring a pot of well-salted water to a boil, then add cauliflower and garlic and simmer until cauliflower is very tender, 13 to 15 minutes.

Drain cauliflower in a colander and pulse with remaining 1/2 cup milk, 1/2 cup Parmigiano-Reggiano, and 3 tablespoons butter in a food processor until it's a chunky purée.

Stir together mashed potatoes and cauliflower mixture in a large bowl and season with salt and pepper. Transfer to a buttered 3-quart flameproof shallow baking dish (not glass).

Heat oven to 425°F with rack in middle. Melt remaining 2 tablespoons butter and gently brush over potato-cauliflower mixture, then sprinkle evenly with remaining 1/4 to 1/2 cup Parmigiano-Reggiano (to taste). Bake until potato mixture bubbles around edges, about 20 minutes.

Turn on broiler and broil 6 to 8 inches from heat until topping is browned in spots, 1 to 2 minutes.
COOKS' NOTES:
Potato and cauliflower mixture, without final melted butter and cheese topping, can be made 2 days ahead and chilled, covered. Bring to room temperature, then bake and broil with topping.

Recipe can be halved and baked in a 2-quart flameproof shallow baking dish.