Cabernet-Cranberry Sauce with Figs
Active time: 15 min
Total time: 1 hr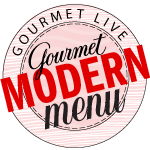 Who knew Cabernet and cranberries would make such a dynamic duo? Add dried figs (plumped in the Cabernet ahead of time), and you end up with a winey, fruity fig bar, minus the cookie. This sauce is so fine, you'll be spooning leftovers on ice cream or slathering it on toast in place of jam. It's worth buying extra cranberries and freezing them so you can make more to last you through the winter.
This recipe is part of our
Gourmet
Modern Menu for Thanksgiving for 2 or 20.
Click here
to view the full menu.
INGREDIENTS:
1 cup Cabernet Sauvignon

6 ounces dried calimyrna figs, stems trimmed and figs coarsely chopped (1 cup)

1 (12-ounce) bag fresh or frozen cranberries

3/4 cup sugar

3 (3- by 1/2-inch) strips orange zest
Bring wine to a boil with figs in a small saucepan, then remove from heat and steep figs, covered, until tender, about 30 minutes. Strain mixture through a sieve into a medium heavy saucepan and reserve figs in a small bowl.

Add cranberries, sugar, and zest to wine and bring to a simmer over medium heat, stirring until sugar has dissolved. Adjust heat and continue to simmer, uncovered, stirring occasionally, until cranberries burst and mixture is thickened slightly, 10 to 15 minutes. Remove from heat and discard orange zest strips, then stir in figs. Let cool completely.
COOKS' NOTES:
Cranberry sauce can be made 1 week ahead and chilled in an airtight container. Bring to room temperature before serving, and if desired, thin with warm water.

If serving 2 to 4 people, sauce recipe can be halved, but because cranberry sauce keeps indefinitely in the refrigerator—and we think this one is particularly delicious—we suggest you make the full amount and enjoy it for months to come with chicken or pork, or as a topping for toast.