Active time: 45 min
Total time: 1 hr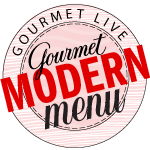 Ditch the store-bought seasoning packet in favor of this DIY version that combines slowly caramelized onions with tangy sour cream.
This sauce was created especially for our
Homemade French Fries with Five Dipping Sauces
recipe, part of our
Gourmet
Modern Menu: Burger Bash.
Click here
to view the full menu.
INGREDIENTS:
1/4 cup extra-virgin olive oil

1 (1-pound) large onion, chopped (3 cups)

1/2 pound shallots, chopped (1 1/2 cups)

Salt

Freshly ground black pepper

4 tablespoons water

1 (16-ounce) container sour cream

1/4 cup chopped chives or finely chopped scallion greens
Heat oil in a 12-inch heavy skillet over medium-high heat until it shimmers, then sauté onion and shallots with 1 teaspoon salt until lightly browned, about 2 minutes.

Reduce heat to medium-low and continue to cook, covered, stirring frequently, until vegetables are golden brown, about 20 to 30 minutes more.

Remove from heat and stir in 1/4 teaspoon pepper and 2 tablespoons water, or enough to loosen any brown bits stuck to the bottom of the skillet.

Transfer onion mixture to a medium bowl, then stir in sour cream and remaining 2 tablespoons water. (If desired, thin to desired consistency with additional water.)

Stir in most of the chives, sprinkling on the rest as a garnish.

Serve at room temperature.
COOKS' NOTE:
Dip can be made 3 days ahead and chilled, covered. Bring to room temperature before serving.