Active time: 10 min
Total time: 20 min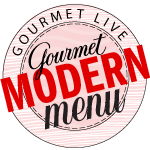 Saffron threads and fresh garlic add a kick of color and flavor to this creamy mayo that's perfect for dipping or spreading.
This sauce was created especially for our
Homemade French Fries with Five Dipping Sauces
recipe, part of our
Gourmet
Modern Menu: Burger Bash.
Click here
to view the full menu.
INGREDIENTS:
2 tablespoons water

1/2 teaspoon crumbled saffron threads

1 cup mayonnaise

1 tablespoon sherry vinegar or red wine vinegar

1/2 teaspoon minced garlic
Bring water and saffron just to a boil in a small saucepan. Remove from heat. Stir, then let steep, uncovered, 10 minutes, to release saffron color and flavor.

Whisk together mayonnaise, sherry vinegar, and garlic in a bowl. Gradually whisk in saffron water.
COOKS' NOTE:
Mayonnaise can be made 3 days ahead and chilled, covered. Bring to room temperature before serving.