Active time: 10 min
Total time: 10 min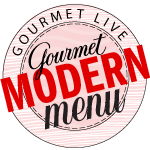 This spiced-up Asian-inspired sauce is perfect for dipping French fries or crudité, or for drizzling over seared chicken or fish.
This sauce was created especially for our
Homemade French Fries with Five Dipping Sauces
recipe, part of our
Gourmet
Modern Menu: Burger Bash.
Click here
to view the full menu.
INGREDIENTS:
1/2 cup mayonnaise

2 tablespoons seasoned rice vinegar

1 tablespoon soy sauce

1 teaspoon finely grated peeled ginger

1/2 teaspoon Asian sesame oil

1 tablespoon chopped cilantro

1 tablespoon finely chopped scallion
Blend together mayonnaise, vinegar, soy sauce, ginger, and Asian sesame oil in a blender until smooth. Pour into a bowl and stir in in cilantro and scallion.
COOKS' NOTE:
Sauce can be made 3 days ahead and chilled, covered. Bring to room temperature before serving.