Grilled Corn with Honey-Ginger Barbecue Sauce
Active time: 35 min (includes making sauce)
Total time: 1 hr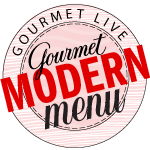 It's hard to imagine anything better than freshly picked ears of corn roasting to golden-brown goodness on the grill. One taste of our Honey-Ginger Barbecue Sauce and you'll be wondering why you ever stuck to plain ol' butter. This sweet and tangy sauce transforms the season's staple produce into a standout, flame-kissed favorite.
This recipe is part of our
Gourmet
Modern Menu for A Fourth of July Cookout.
Click here
to view the full menu.
Prepare grill for direct-heat cooking over medium-hot charcoal (medium-high for gas); see Grilling Procedure below.

Drizzle corn with oil on a large rimmed baking sheet, and sprinkle evenly with salt. Lightly rub oil and salt into corn.

Oil grill rack, then grill corn (covered only if using gas), turning frequently, until lightly browned and tender, 6 to 8 minutes. Move corn to different positions on grill if hot spots are present. Brush corn with some of prepared sauce and grill, turning, until sauce is hot, 1 to 2 minutes. Serve with reserved sauce.
COOKS' NOTES:
Corn can be shucked 2 hours ahead.

If grilling both the corn and the

Grilled Shrimp with Honey-Ginger Barbecue Sauce

grill the corn first, then keep it warm on a tray loosely covered with foil. If you are using hardwood charcoal, you don't want more than about 1 layer of charcoal for the corn because more will cause it to burn before it cooks through. When the corn is done, add more charcoal to grill the shrimp.
Charcoal Grilling Instructions:
Open vents on bottom of grill: Light a large chimney starter full of charcoal (preferably hardwood).
For Direct-heat Cooking:
When coals are lit, dump them out across bottom rack, leaving a space free of coals on one side of grill equal to the size of the food to be grilled where food can be moved in case of any flare-ups.

When charcoal turns grayish white (start checking coals after 15 minutes), the grill will be at its hottest and will then begin to cool off. It will be at the proper medium-hot temperature when you can hold your hand 5 inches above the grill rack (directly over the coals) for 3 to 4 seconds.
Gas Grilling Instructions:
Preheat all burners on high covered, 10 minutes, then adjust heat according to recipe.