The Ultimate Brownie Sundae
Active time: 1 hr
Total time: 1 hr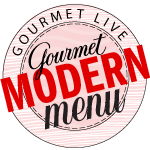 Chocolate has the incredible ability to stand alone quite nicely while playing along with loads of other prominent ingredients—without being a bully. And that is why a brownie sundae can be so frustrating: How can you settle on one ice cream flavor or a single sauce?
We figured Father's Day is the right time to have a brownie sundae
your
way. Dads have soft spots for cuteness, so serving up a brownie raft supporting mini-scoops of three different ice creams adrift in three different sauces will tickle him to no end. Feel free to use whatever ice cream flavors are the family favorites.
This recipe is part of our
Gourmet
Modern Menu for A Father's Day Feast.
Click here
to view the full menu.
INGREDIENTS:
6 (6- by 1 1/2 -inch) strips of the Ultimate Brownie

1 pint each of vanilla, chocolate, and coffee ice cream
EQUIPMENT:
A small (1 3/4- to 1 1/2-inch-wide) ice cream scoop (optional)
Put brownie strips on each of 6 plates and top with small scoops (or curls) of vanilla, chocolate, and coffee ice cream, arranged side by side. Spoon your sauce of choice over each scoop of ice cream.