Turkey Meatball Garlic Bread Heroes
Active time: 1 1/2 hr
Total time: 1 1/2 hr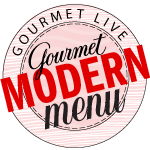 One look at these meatball subs and you might be inclined to bypass an entire summer's worth of burgers and dogs. Heroes, hoagies, subs, grinders—regardless of what you call them, we guarantee this recipe will be an instant crowd favorite thanks to toasted garlic-butter buns piled high with tender meatballs and tangy tomato sauce. Although you may be tempted to head for the grill, opt for your oven broiler instead and avoid the need for skewers or special grill baskets.
This recipe is part of our
Gourmet
Modern Menu for Summer Fair Favorites.
Click here
to view the full menu.
INGREDIENTS:
For Tomato Sauce:
1 (28-ounce) can whole tomatoes in purée

2 tablespoons olive oil

1 small onion, finely chopped

3 garlic cloves, minced

1 teaspoon sugar

1/2 teaspoon salt
For Meatballs:
3 cups coarse fresh bread crumbs (from 5 to 6 slices firm white sandwich bread)

2/3 cup whole milk

2 large eggs, lightly beaten

1 1/4 cups grated Pecorino Romano (about 5 ounces)

3 garlic cloves, minced

3 tablespoons finely chopped flat-leaf parsley

1/2 teaspoon dried oregano

1/2 teaspoon salt

2 pounds ground turkey (not breast meat)
For Garlic Bread:
5 tablespoons unsalted butter, softened

2 tablespoons olive oil

1 tablespoon minced garlic

1/4 teaspoon salt

2 tablespoons grated Pecorino Romano

2 tablespoons finely chopped flat-leaf parsley

1/4 teaspoon freshly ground black pepper

12 hot dog or long potato buns or hoagie rolls
EQUIPMENT:
An instant-read thermometer
Make Tomato Sauce:
Purée tomatoes with their purée in a blender.

Heat oil in a large heavy pot over medium-high heat until it shimmers, then sauté onion until golden, 5 to 6 minutes. Add garlic and sauté 1 minute. Add tomato purée, sugar, and salt and simmer, uncovered, stirring occasionally, until thickened, 30 to 35 minutes.
Make Meatballs While Sauce Simmers:
Stir together bread crumbs and milk in a large bowl and let stand for 10 minutes.

Stir in eggs, cheese, garlic, parsley, oregano, and salt, then add turkey and blend with your hands until just combined well (do not overmix).

Form 1 1/2-tablespoon portions into meatballs and arrange on 2 well-oiled large, heavy, rimmed baking sheets.
Make Garlic Bread:
Stir together butter, oil, garlic, salt, cheese, parsley, and pepper in a bowl. Spread about 2 rounded teaspoons garlic butter onto both split sides of each bun. Arrange buns, buttered sides up, on a large baking sheet.
Broil Meatballs and Garlic Bread:
Preheat broiler.

Broil meatballs 3 to 4 inches from heat, turning over once, until golden and just cooked through (165°F on instant-read thermometer), 5 to 8 minutes.

Broil buns, buttered sides only, until golden, 30 seconds to 1 minute, watching closely (buns brown fast).
Assemble Heroes:
Spoon some sauce on each bun, then top with 4 meatballs (depending on size of buns), and drizzle with more sauce.
COOKS' NOTES:
Tomato sauce can be made up to 2 days ahead and chilled in an airtight container. Reheat before using, thinning with water, if necessary, to desired consistency.

Garlic butter can be made up to 2 days ahead and chilled in an airtight container. Bring to room temperature before using.

Meatballs can be formed 1 day ahead. Put them on a wax paper–lined baking sheet, cover them tightly with plastic wrap, and chill.