Farmhouse Cheese and Caraway Soda Bread Puddings
Active time: 30 min
Total time: 2 3/4 hr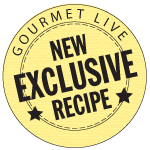 Consider this recipe a double whammy. Not only do you end up with a dreamy, cheesy bread pudding, but you also get the recipe for an excellent loaf of Irish soda bread. The bread is so easy to make—there's no yeast involved—don't be surprised if you find yourself baking a loaf often. It makes excellent toast.
Many Irish cheeses are now sold in our supermarkets, but you'll have good results with any sharp Cheddar. Buried in the recipe is a nifty trick: Adding a bit of Parmesan to the mixture helps amplify the flavor of the Cheddar.
This recipe is part of
Gourmet
's Modern Menu for St. Patrick's Day.
Click here
for the full menu.
INGREDIENTS:
For Irish Soda Bread:
2 cups all-purpose flour, plus more for dusting

3/4 teaspoon baking soda

1/2 teaspoon salt

1 tablespoon caraway seeds

1 cup well-shaken buttermilk

2 tablespoons unsalted butter, melted
For Puddings:
4 large eggs

2 1/2 cups whole milk

1/2 teaspoon salt

1/4 teaspoon pepper

3 ounces sharp white Cheddar cheese, coarsely grated (1 1/4 cups)

1/4 cup grated Parmigiano-Reggiano
EQUIPMENT:
8 (6-oz.) ramekins or a 2-quart shallow gratin or baking dish
For Irish Soda Bread:
Preheat oven to 375°F with rack in middle.

Whisk together flour, baking soda, salt, and caraway seeds in a large bowl. Add buttermilk and butter. Stir just until dough is evenly moistened but still lumpy.

Transfer dough to a well-floured surface and turn dough to coat with flour. Gently knead with floured hands about 8 times to form a soft but slightly less sticky dough.

Form into a domed 6-inch round and put on an ungreased baking sheet. Cut a 1/2-inch-deep "X" across top of each loaf with a sharp knife. Using a small sieve, dust 1 tablespoon of additional flour over loaf.

Bake in middle of oven until golden brown and bottom sounds hollow when tapped, 35 to 40 minutes. Transfer loaf to a rack and cool completely.
For Puddings:
Preheat oven to 350°F with rack in middle. Butter ramekins or baking dish.

Cut enough bread into 1-inch cubes to measure 3 3/4 cups (about half the loaf; reserve remaining bread for another use.) Divide bread among ramekins (or spread in larger baking dish).

Whisk together eggs, milk, 1/2 teaspoon salt, and 1/4 teaspoon pepper. Stir in cheese and spoon over bread in ramekins or baking dish. Let stand 10 minutes.

Put ramekins or baking dish in a larger baking pan and add enough hot water to come halfway up sides of ramekins or dish.

Bake until just set and a knife inserted in center comes out clean, about 35 minutes.

Transfer ramekins or dish from hot water bath to a rack and cool 20 minutes before serving.
COOKS' NOTES:
Soda bread can be made, cooled completely, cubed 1 day ahead and kept in an airtight container at room temperature.

Cheese can be grated 2 days ahead and kept chilled, covered.