Active time: 20 min
Total time: 35 min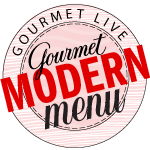 This spiced-up blend is perfect for dipping and also serves as the ultimate multipurpose sauce for chicken, beef, pork, and seafood.
This sauce was created especially for our
Homemade French Fries with Five Dipping Sauces
recipe, part of our
Gourmet
Modern Menu: Burger Bash.
Click here
to view the full menu.
INGREDIENTS:
3 dried large guajillo or New Mexico chiles (3/4 ounce total), wiped clean

3/4 pound fresh tomatillos, husked and rinsed

1/3 cup chopped white onion

1 tablespoon finely chopped chipotle in adobo, or to taste

1 large garlic clove, chopped

Salt
Slit chiles lengthwise, then discard stems, seeds, and veins.

Heat a large heavy skillet (preferably cast-iron) over medium heat until hot, then toast chiles in batches, opened flat, turning and pressing with tongs, until more pliable and slightly changed in color, about 30 seconds per batch. Tear into pieces and put in a blender.

Half-fill a 2 1/2- to 3-quart saucepan with water and bring to a boil. Add tomatillos and simmer until tender, 5 to 10 minutes. Transfer with a slotted spoon to blender and add onion, chipotle in adobo, garlic, and 3/4 teaspoon salt. Blend until smooth (use caution when blending hot liquids). Transfer to a bowl and cool to room temperature.