Active time: 45 min
Total time: 2 hr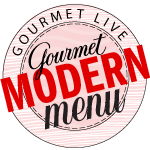 When frozen, bananas become so creamy they can almost pass for sorbet or even ice cream. Coat them with chocolate and sprinkle them with homemade peanut brittle—there will be plenty left over for snacking—and you've got a refreshingly cold treat that feels almost as virtuous as a serving of fruit.
This recipe is part of our
Gourmet
Modern Menu for Summer Fair Favorites.
Click here
to view the full menu.
INGREDIENTS:
8 medium bananas

1 cup salted dry-roasted peanuts

3/4 cup sugar

1/4 cup light corn syrup

1/4 teaspoon salt

1 tablespoon unsalted butter plus more for baking sheet

1/8 teaspoon baking soda

12 ounces bittersweet (60% cacao) chocolate, chopped
Line a large baking sheet with wax paper.

Peel bananas and carefully insert a popsicle stick into bottom end of each banana, halfway up stick. Arrange bananas on the baking sheet and freeze until firm but not frozen hard, about 1 hour. (You don't want the bananas so cold that the chocolate solidifies before you have a chance to add the peanut brittle.)
Make Peanut Brittle While Bananas Are Freezing:
Butter a rimmed baking sheet. Combine peanuts, sugar, corn syrup, and salt in a 2 1/2- to 3-quart heavy saucepan, and bring slowly to a boil over medium heat, stirring.

Position a candy thermometer so that it can rest on side of pan with bulb in mixture. Slowly boil, without stirring but tilting and swirling mixture in pan if it begins to color unevenly. Cook until deep golden and temperature reaches 295°F on thermometer, about 5 minutes.

Remove pan from heat and stir in butter and baking soda (mixture will foam up). Immediately pour molten candy onto baking sheet. Let cool completely, 45 minutes to 1 hour, then pry from baking sheet, and finely chop.
Assemble Bananas:
Melt chocolate in a deep metal bowl set over a saucepan of barely simmering water, stirring occasionally, until smooth. Remove bowl of chocolate from pan. Working with 1 banana at a time, set banana in bowl and coat most of banana evenly in chocolate by spooning it on and smoothing it with the back of the spoon.

Immediately sprinkle peanut brittle over chocolate coating while chocolate is still wet, then return coated banana to wax paper–lined sheet, and let it set while coating remaining bananas. Refreeze bananas, if necessary, to firm up chocolate.
COOKS' NOTES:
Bananas can be coated and kept frozen on prepared sheet, covered with plastic wrap after chocolate sets, 3 days ahead.