Irish Coffee Sundaes with Caramel Whiskey Sauce and Coffee Nut Crisp
Active time: 15 min
Total time: 1 1/2 hr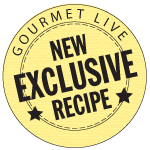 Although we're fans of Irish coffee, this particular incarnation as a coffee ice cream sundae with a whiskey-spiked caramel sauce is so insanely good, we suspect you'll be indulging in this far more often than the drink itself!
This recipe is part of
Gourmet
's Modern Menu for St. Patrick's Day.
Click here
for the full menu.
INGREDIENTS:
For Coffee Nut Crisp:
1 large egg white

1/4 cup packed light brown sugar

1/2 teaspoon instant coffee granules, crushed

1 tablespoon caraway seeds

Pinch of salt

1 cup walnut pieces (3 1/2 ounces), coarsely chopped if desired
For Sauce and Sundaes:
1 cup granulated sugar

1/4 cup water

6 tablespoons Irish whiskey

1/4 cup heavy cream

1/4 teaspoon salt

2 pints good-quality coffee ice cream
For Coffee Nut Crisp:
Preheat oven to 325°F with rack in middle. Line a rimmed sheet pan with a nonstick baking liner, or line it with foil and lightly oil foil.

Whisk egg white with sugar, coffee powder, and salt in a bowl until blended. Stir in walnuts until coated. Spread mixture into a 10- by 8-inch rectangle in pan.

Bake until crisp is dry to the touch, 20 to 25 minutes. Transfer pan to a rack to cool completely.

Loosen crisp with a metal spatula and break into small pieces.
For Sauce and Sundaes:
Bring sugar and water to a boil in a 2-quart heavy saucepan over medium-high heat, stirring until sugar is dissolved. Boil without stirring, but washing down any sugar crystals with a brush dipped in cold water, until syrup begins to turn golden, about 5 minutes. Continue to boil, swirling pan occasionally, until syrup is a deep golden caramel.

Remove pan from heat and carefully add whiskey, cream, and salt (mixture will bubble up and steam and caramel will harden).

Return pan to heat and simmer, stirring, until caramel is dissolved and sauce is smooth. Cool to warm.

Serve sauce over scoops of coffee ice cream then sprinkle with walnut crisp.
COOKS' NOTES:
Crisp can be made 4 days ahead and kept in an airtight container at room temperature. (Watch out, though; it's so delicious, you will be hard-pressed to resist devouring all of it before your guests arrive!)

Sauce can be made 4 days ahead and chilled, covered. Rewarm to serve. Any leftover sauce will keep, chilled, at least 1 week.