Active time: 15 min
Total time: 25 min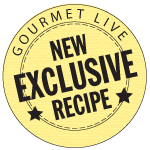 There's no reason why you can't have your Guinness two ways at once: Enjoy as the day's beverage of choice, and while devouring one of our favorite nuggets of meat—lamb rib chops—which we bathe in an intriguing glaze made from the very same stout cooked down with coriander and black peppercorns. Be sure to look at the Cooks' Notes for more information about Guinness, the spices, and the lamb chops.
This recipe is part of
Gourmet
's Modern Menu for St. Patrick's Day.
Click here
for the full menu.
INGREDIENTS:
2 cups (16 ounces) Guinness stout

1/2 cup packed light brown sugar

1 1/2 tablespoons coriander seeds, crushed

1/2 teaspoon black peppercorns, crushed

Salt

16 lamb rib chops (buy separately or buy two 8-rib racks of lamb and cut them yourself into individual chops)

Freshly ground black pepper
Bring stout, sugar, coriander seeds, peppercorns, and 1/4 teaspoon salt to a boil in a 2-quart nonreactive saucepan, stirring until sugar is dissolved, then continue boiling (keep an eye on it and reduce heat to keep it from boiling over) until glaze is syrupy and reduced to about 1/2 cup, 20 to 30 minutes.

Strain through a fine-mesh sieve into a bowl and discard solids.

Preheat broiler.

Pat chops dry and sprinkle with 1 teaspoon salt and 1/2 teaspoon black pepper.

Divide glaze between 2 small bowls and set 1 aside for use later. Brush both sides of chops with glaze (from remaining bowl) and arrange on rack of a broiler pan.

Broil 5 inches from heat, 4 to 5 minutes on each side for medium rare. (Don't hesitate to cut and peek to check on the doneness of the meat.)

Transfer chops to a platter and drizzle with reserved glaze.
COOKS' NOTES:
Beer can be confusing to measure: Do you include the head, or scoop it off, or let it dissipate? Guinness comes in a variety of different-size cans and bottles. Tilt the measuring cup while pouring the stout against the side of the measure (to minimize the creation of its famous head), and let the foam subside so that you are only measuring the dark liquid. Any leftovers are the cook's treat.

To crush coriander seeds and peppercorns, either use a mortar and pestle, or put coriander seeds and peppercorns in a resealable plastic bag and crush them with the bottom of a heavy skillet or a rolling pin.

Glaze can be made 3 days ahead and chilled, covered. Bring it to room temperature before using.

Depending on where you buy your lamb rib chops, they can come trimmed and frenched (the bones are scraped clean of fat and meat), or left alone with the thin layers of fat and meat on the bones intact. It is generally cheaper to buy 8-rib racks of lamb from the big-box stores and cut them yourself into chops. If you prefer the look of long, cleaned bones, select the frenched chops or racks (some big-box stores sell them that way). If you want extra nibbly bits of meat and fat left on the bone for your guests to gnaw on, look for untrimmed chops, or specifically request the butcher not to french the bones.