Fennel and Radicchio Salad with Olive Vinaigrette
Active time: 15 min
Total time: 15 min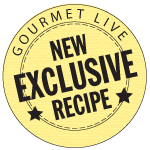 This crisp, colorful salad is a refreshing accompaniment to any meal, whether you serve it after, before, or with the main course. The slightly sweet nature of fennel pairs well with radicchio's mild bitterness. The lemony olive vinaigrette and herbs keep the salad vibrant.
INGREDIENTS:
2 teaspoons Dijon mustard

2 teaspoons lemon juice

3 tablespoons extra-virgin olive oil

1/4 cup chopped pitted Kalamata olives

1 medium fennel bulb (3/4 pound)

4 ounces radicchio or Treviso, leaves torn into smaller pieces

1/4 cup basil leaves, torn if large

1 tablespoon chopped chives (optional)
EQUIPMENT:
mandoline or other adjustable blade slicer
Whisk together, mustard, lemon juice, oil, and 1/8 teaspoon pepper in a large bowl until well blended. Stir in olives.

Trim fennel bulb and remove tough outer layer. Halve bulb lengthwise, then thinly slice lengthwise using mandoline.

Add fennel, radicchio, basil, and chives to vinaigrette in bowl and gently toss until evenly coated. Season with salt and pepper.
COOKS' NOTES:
Vinaigrette can be made 1 day ahead (excluding olives) and kept chilled in an airtight container. Stir in olives when ready to use and re-season, if necessary, with more lemon juice, salt, and pepper. (Olives can be chopped ahead and kept in a separate container.)

If you prefer green olives, feel free to substitute them (the dressing will be just as tasty).

The radicchio and basil can be washed, spun dry, and prepared the night before and chilled in a sealable plastic bag lined with a dampened paper towel. Wash chives separately and pat dry; chop chives and keep chilled in a separate container.

The fennel can be sliced 3 hours ahead and kept chilled in a sealable plastic bag lined with a dampened paper towel.