Active time: 1 hr
Total time: 1hr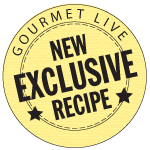 Think of these as the best part of French onion soup minus the broth. Better yet, they're in a form that's much easier to eat than the soggy wet bread, weighed down with cheese, that usually tops crocks of onion soup. Don't be surprised if these disappear before you get a chance to sample one yourself!
INGREDIENTS:
36

thin (1/4-inch) slices of baguette (from 1 baguette)

1

tablespoon unsalted butter

1

tablespoon olive oil

2

large onions, chopped (about 4 cups)

1

garlic clove, lightly crushed

1

small bay leaf

1

sprig fresh thyme

1/4

cup white wine

1 1/2

cups finely shredded Gruyere (using a microplane, about 3 oz)
INSTRUCTIONS:
Preheat oven to 375°F with rack in middle

Arrange slices on a large baking sheet and bake in oven until golden, about 8 minutes. Let cool.

Meanwhile, heat butter and oil in a 10-inch heavy skillet over medium heat until butter is melted, then cook onion, garlic, bay leaf, and thyme with 1/2 teaspoon salt and 1/4 teaspoon pepper, covered, stirring occasionally, 10 minutes.

Uncover skillet and cook, stirring occasionally, until deep golden, about 10 to 15 minutes more. Add wine and cook until entirely evaporated, 1 to 2 minutes. Discard garlic clove, bay leaf, and thyme. Transfer to a small bowl and keep warm, covered.

Preheat broiler.

Arrange toasts on a large baking sheet, then top each with a rounded teaspoon of caramelized onions and sprinkle generously with shredded Gruyere. Broil 3- to 4-inches from heat until cheese is melted, 1 to 2 minutes (watch carefully).
COOKS' NOTES:
Onions can be caramelized 1 week ahead and kept chilled.

Bread slices can be toasted and cheese shredded 3 days ahead. Keep toasts in an airtight container at room temperature and keep cheese chilled.