Anyone who has lots of leisure time and excess money (know anyone like that?) can go out and buy fancy edible gifts, but is there anything more personal—and thoughtful—than a homemade treat? Try one of these super simple, inexpensive ideas to show the recipient that you're willing to go the extra mile for them.
1. Cake Mix: Instead of baking a cake for your holiday hosts, make them a mix! This way, you'll share a favorite sweet with them without making them feel obligated to serve it that day.
Here's How: Choose a favorite cake, muffin, biscuit, or cookie recipe and pour the dry ingredients (in layers for an attractive presentation) into a glass jar with a tight-fitting lid. Use a pretty ribbon to tie a tag to the jar with a list of wet ingredients and baking instructions.
2. Nut Bark: Nix pricey store-bought peppermint or nut bark and make your own in less than 30 minutes.
Here's How: In a microwave-safe bowl, heat about 2 cups chocolate chips (dark, milk, or white) in 30-second increments, stirring between each heating, until completely melted. Pour the chocolate onto a parchment paper–lined, rimmed sheet pan. (For added flair, microwave two colors of chocolate in separate bowls and swirl them together in the sheet pan.) Sprinkle the melted chocolate with toppings such as crushed candy canes, sprinkles, chopped nuts, candied fruit, and toffee bits. Cool in the refrigerator until firm, then break into medium-size pieces and package in a decorative tin or small box.
3. Signature Granola: Give harried hosts homemade granola and save them from having to make a fancy breakfast the morning after preparing a big dinner.
Here's How: In a large bowl, combine rolled oats, bits of dried fruits, seeds, and nuts with a touch of cinnamon and a pinch of salt (optional), vegetable oil (about 1 teaspoon per cup of dry ingredients), plus the sweetener of your choice, such as brown sugar, honey, or maple syrup. Make your own creative mix or follow a recipe like Maple Apricot Granola. Pour the mixture onto a parchment paper–lined, rimmed sheet pan and toast at 350°F for 20 to 30 minutes, stirring occasionally. Place the cooled finished product in Mason jars or cellophane bags, and gussy them up with festive ribbons or bows.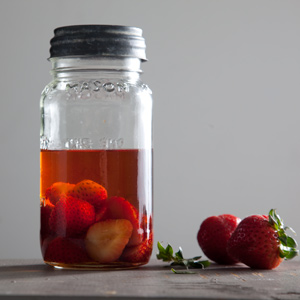 Photo: CN Digital Studios
4. Brightened Spirits: Wine is a lovely holiday gift, but home-infused alcohol is much more personal and distinctive—and it's incredibly easy to stir up.
Here's How: In a large glass or plastic container with a tight-fitting lid, combine a 750-milliliter bottle of alcohol with 2 to 3 cups of chopped fruits or vegetables.Some great combinations: tequila with jalapeños; vodka with pineapple; gin with berries; and rum with oranges and cloves. Cover and let sit for 7 to 10 days in a cool, dry place or in the refrigerator, then strain out the solids and return the alcohol to its original bottle or another decorative bottle and add a personalized label.
5. Cinnamon Candles: Forget cloying scented candles and create your own subtle cinnamon votives.
Here's How: Glue cinnamon sticks vertically around the outside of glass votives, then tie a colorful ribbon around the sticks. The votives look festive and, when lit, emit a mild cinnamon scent that won't clash with culinary aromas.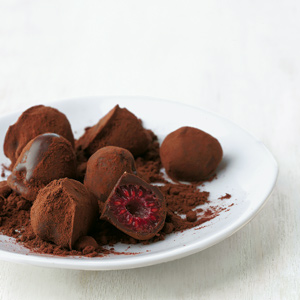 Photo: Romulo Yanes
6. Chocolate Truffles: Candy is ever-present during the holidays, so try a treat that will stand out: homemade chocolate truffles, which are much easier to prepare than you might think.
Here's How: Make chocolate ganache—simply two parts bittersweet or semi-sweet chocolate with one part heavy cream. Heat the cream, then pour it over the chocolate in a bowl and let stand 5 minutes; stir to combine until completely melted. Let the mixture cool, then roll into 1-inch balls and coat with cocoa powder, confectioners' sugar, or chopped nuts. For an even more impressive version try our Chocolate-Covered Raspberry Truffles or Dulce de Leche and Nut Butter Truffles.