Makes about 4 1/2 dozen sandwich cookies
Active time: 1 hr
Total time: 2 hr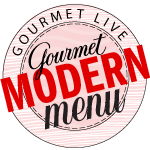 The problem with Franco-American food trends, like the current one with macarons—those pastel puffs of sweet air that seem to be everywhere—is that its good ol' American predecessor, the macaroon, gets forgotten. The truth is, though, we never
stopped
loving the coconut macaroon. In fact, we craved its dense, moist chew. Retrofit the macaroon as a bite-size sandwich filled with a pucker-worthy tart lime curd, and you've caught a new trend headed straight for the stars.
This recipe is part of our
Gourmet
Modern Menu: Holiday Cookie Craze.
Click here
to view the full menu.
INGREDIENTS:
For Macaroons:
1 (14-ounce) bag (5 1/3 cups) sweetened flaked coconut

1/2 cup sugar

1/2 cup all-purpose flour

1/4 teaspoon salt

4 large egg whites

1/4 teaspoon pure almond extract
For Lime Curd:
1 tablespoon lime zest

3/4 cup fresh lime juice (from about 6 limes)

3/4 cup sugar

2 1/2 tablespoons cornstarch

1/2 teaspoon salt

1 stick (1/2 cup) unsalted butter, cut into pieces

4 large egg yolks

1 drop green food coloring, if desired
Make Macaroons:
Heat oven to 325°F with racks in upper and lower third. Line 2 large baking sheets with parchment paper.

Stir together coconut, sugar, flour, and salt until combined well, then add egg whites and almond extract and stir until combined well.

Pack dough in a teaspoon measure, preferably with offset spatula, scraping it level, then use spatula to remove dough from teaspoon in a single mound. Arrange mounds, rounded side up, 1 inch apart, on baking sheets.

Bake until just springy to the touch and bottoms are pale golden, 8 to 12 minutes, switching position of sheets halfway through baking.

Remove cookies from oven and sprinkle while still hot with edible glitter, if using. Cool cookies on baking sheet 1 minute, and transfer to racks to cool completely.
Make Lime Curd:
Whisk together lime zest and juice, sugar, cornstarch, and salt in a 2-quart heavy saucepan until cornstarch is dissolved, then whisk in butter. Bring to a simmer over moderately high heat, whisking constantly, then reduce heat and continue to simmer briskly, whisking constantly, 1 minute. Remove pan from heat.

Lightly beat yolks in a small bowl, then slowly add 1/4 cup lime mixture, whisking. Add yolk mixture to remaining lemon mixture, whisking, then cook over low heat, whisking constantly, until curd is thick enough to hold marks of whisk, 1 to 2 minutes. Transfer to a bowl, then cover surface with wax paper and chill until cold, about 1 hour.
Assemble Cookies:
Transfer lime curd to plastic bag and press out excess air. Snip a 1/8-inch opening in bottom corner of bag, then twist bag firmly just above curd.

Put 1 cookie, flat side up, on work surface and pipe about 1/2 teaspoon lime curd onto cookie, then top with another cookie, flat side down, to form a sandwich. Make more sandwiches in same manner.
COOKS' NOTES:
Lime curd can be made 1 day ahead and chilled, covered. You will have leftover lime curd (this is the right amount of curd for 1 drop of food coloring; less curd and the color would be too intense), but it will keep for weeks, covered, in your refrigerator, and is delicious on toast or hot biscuits.

Sandwiched cookies keep, layered between sheets of wax paper or parchment in an airtight container, chilled, 4 days. Bring to room temperature just before serving.