Active time: 30 min
Total time: 1 1/2 hr (includes cooling)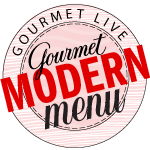 You can count on snack mix to be the first thing to disappear at a party. Salty, cheesy, crunchy (and with an optional kick of heat)—this addicting combo is a flavor-packed blend of popcorn, tortilla chips, and corn nuts gently scented with tangy barbecue sauce and Spanish smoked paprika. It's the perfect savory balance to an evening's worth of Halloween sweets.
This recipe is part of our
Gourmet
Modern Menu for Halloween: Spooky Snacks.
Click here
to view the full menu.
INGREDIENTS:
6 cups popcorn (1 1/2 ounces; see Cooks' Notes)

2 cups coarsely broken blue corn tortilla chips (2 3/4 ounces)

2 cups Cheddar fish-shaped crackers or other cheese crackers (3 3/4 ounces)

2 cups corn nuts (6 1/2 ounces) or smokehouse almonds

1 stick (1/2 cup) unsalted butter

1/2 cup barbecue sauce

1 teaspoon Worcestershire sauce

2 tablespoons sugar

2 teaspoons smoked paprika (sometimes labeled pimentón dulce)

2 teaspoons chili powder

2 teaspoons garlic powder

1/2 teaspoon Tabasco (optional)
Heat oven to 300°F with rack in middle. Grease rimmed baking sheet with oil.

Combine popcorn, tortilla chips, cheese crackers, and corn nuts in a large bowl.

Melt butter in a small saucepan over medium heat. Remove pan from heat and whisk in barbecue sauce, Worcestershire sauce, sugar, paprika, chili and garlic powders, and Tabasco, if using.

Drizzle barbecue sauce mixture over snack mix and stir until combined well.

Evenly spread mixture in baking sheet and bake, stirring and turning mixture over every 10 minutes, for a total of 40 minutes. Cool in pan on a wire rack (it will crisp as it cools), then break into pieces.
COOKS' NOTES:
Snack mix keeps in an airtight container for up to 1 week.

If you want to pop your own popcorn, we recommend using a hot-air popper. To end up with at least 6 cups, use 1/4 cup kernels.