Northern California wine country is endlessly satisfying for travelers—has anyone ever come back from Napa or Sonoma having had a bad time? But if you're craving a new wine region to conquer, head north to the Anderson Valley, a much-lower-profile place that happens to be turning out some of the best wines in California.
Driving north from Sonoma into Mendocino County, home of the Anderson Valley, you can feel the shift into what feels like another state, or another world—one with fewer people, redwoods that are even more enormous, and a general hush. To get a sense of why it's so serene, look at a map. Route 128, running north-south through the valley for a solitary 30 miles, is crossed only once by a road of any consequence.
Getting in or out of the narrow Anderson Valley requires some harrowing driving, however. To the north, the towering redwoods crowd and darken the curving road; you'll need your lights even in daytime. To the south, hairpin turns and steep grades completely justify the 15-mile-an-hour speed limit signs.
Not that the locals mind. "We like that the roads are wind-y," says Alan Thomas, a British-born transplant from New York's tech sector who works as a farmer, handyman, and occasional waiter (everyone in the valley seems to have two or three jobs). "It keeps us from becoming Napa."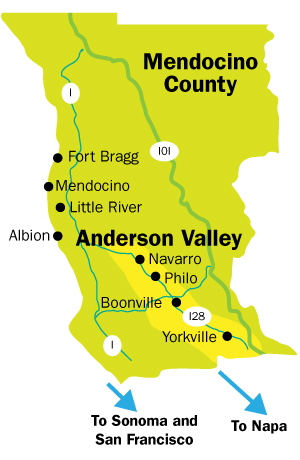 Being more relaxed and less fancy than Napa is a source of pride for residents—and an important point of distinction for visitors. The town of Boonville, smack-dab in the heart of the Anderson Valley, even has its own folk lingo, Boontling. Dating from the late 19th century, the Irish-Scottish-Spanish–Pomo Indian dialect is now dying out with the older generation but is still spoken in some quarters. Boontling has more than 1,000 words and was likely invented as a way of keeping strangers at a distance: A "horn of zeese" is a cup of coffee; city folk are known as "brightlighters," for obvious reasons.
Boonville's linguistic trick worked, for a while at least. "People used to drive through town and not stop," says Johnny Schmitt, proprietor and executive chef of the Boonville Hotel, a 10-room gem decorated in a style one might call tin-roof modern. The excellent prix fixe dinner changes each night and is apt to include mushrooms foraged by the staff and a chicken raised by a friend. The feel of the whole experience is improvisational and warm, and the restaurant also welcomes guests not staying on the premises.
Schmitt's parents, Don and Sally, founded Napa's now-legendary French Laundry, eventually selling it to super-chef Thomas Keller. The elder Schmitts then established the Philo Apple Farm, an Anderson Valley lodging complete with a cooking school and farm stand. (Johnny's sister Karen, along with her husband, Tom, now run the farm.) Just up the road from the Boonville Hotel, the farm has four stand-alone cottages, all in the family style—uncluttered yet cozy.
Less than an hour's drive from northern Sonoma's Dry Creek Valley, the Anderson Valley qualifies as a destination in its own right these days, thanks to its stellar wines. They're a direct result of the climate: the coolest high-quality winegrowing region in California. For the past 30 or so years, wineries headquartered in other parts of the state (and elsewhere in the world) have raised grapes here, or bought from local growers, to make wines from varietals that love the cold—Pinot Noir, Gewürztraminer, and Pinot Gris in particular.
Although Pinot Noir is also grown in Sonoma and many other places, wines made from those grapes that hail from the Anderson Valley have a particular freshness and delicacy. That's why the great French Champagne house Louis Roederer, maker of the famous Cristal, set down American roots here for its Roederer Estate bubbly. One sip of the Brut Rosé NV (roughly half Pinot and half Chardonnay)—a pale-pink sunset of a wine with many flavor layers of nuts and fruit—and you'll see why the estate found the region so appealing.