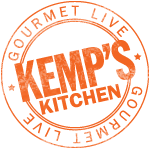 "What would be your top timeless recipes from Gourmet?" asked Tanya Steel, editor-in-chief of Gourmet Live and Epicurious.com. My first reaction was a momentary brain freeze at the enormity of the challenge—I spent more than 30 years at the magazine, and its archives date back seven decades. Then my mind jumped to the French classics: Visions of Escoffier and Brillat-Savarin wagged their whisks at me as images of standards like boeuf bourguignon, coq au vin, and mousse au chocolat flipped like flash cards through my head. After all, we can't even talk food in this country without speaking Franglais, with words like cuisine, sauté, braise, roux, and chef rolling off our tongues as easily as bacon and eggs.
Yet timeless is not the same as classic. Think enduring, or ageless, instead. And while there's no doubt French cuisine will endure, so will many other cuisines. Meanwhile, we Americans, like people of so many other melting-pot nations, have embraced new ingredients and flavors as they've come ashore. We've also traveled the globe and brought back some worldly tastes, and we've adopted and adapted all those influences into our own creations fit to stand the test of time.
If there is any single dish that I'm certain future generations will be devouring, it's macaroni and cheese. Whether homemade or instant, mac and cheese continues to push the nostalgia button across all age groups. What's so special about this particular recipe I've chosen? The cheesiness factor, for starters: The funny thing about cooking with Cheddar is that no matter how sharp you go or how much you use, the cheesy intensity remains a bit elusive. But add a little Parmigiano-Reggiano to the mix, and suddenly your fromage fantasy is fully realized. And when making mac and cheese from scratch, heaven forbid you skip the bread crumb topping! The best macaroni and cheese is all about the contrast between a crispy crust (achieved here with large, Parm-flecked crumbs) and the creamy innards below. And creamy is the operative word in this version.
Next up, something old, something new: America's love affair with all things porcine is not going to wane, and once you've had pulled pork on a bun, you're a fan for life. The problem with singling out one pulled-pork recipe is that no matter which regional American rendition you choose, you will be pulled—pardon the pun—into the barbecue wars, waged every summer in backyards and pits around the country, where diehards swear their version is the best. You can't win, because they're all delicious, so I'm not wading into that swamp. Instead, my pick is the Asian Pulled-Pork Burgers featured last spring on Gourmet Live. Serve the succulent shreds topped with a slaw that's punchy with the pinball ping of fresh mint, basil, and cilantro, and you might just say farewell to traditional barbecue.
When it comes to dessert, there's nothing like a good ol' American layer cake. And in my opinion, it had better be a deep, dark, chocolaty one with a dense, rich frosting. The Double Chocolate Layer Cake from Los Angeles restaurant Engine Co. No. 28, featured in Gourmet in 1999, fits my concept of an ageless dessert. And apparently plenty of other people agree with me, because this recipe rates four forks and has drawn the most reviews ever on our sibling site Epicurious—nearly 1,500 and counting.
Why is this cake so adored? Butter lovers will be shocked when they learn it's made with oil instead, the key to an incredibly moist crumb. As for the frosting, it doesn't get much easier, or more completely satisfying, than a chocolate ganache (there's the French again).
Tempted? Browse the slideshow to see these three recipes and more I'm sure you'll be making for years to come.