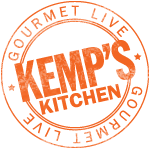 What started out as a busman's holiday—I needed to develop a cake recipe over a break in New Hampshire last summer—turned into a life-changing adventure. I happened upon Kate's Real Buttermilk and discovered the magic this old-fashioned substance conjures in baked goods. The commercial stuff sold in most supermarkets as buttermilk? Read the labels—it's not the liquid that remains after transforming cream into butter. Instead, it's cultured skim milk with all kinds of thickeners added to stabilize and keep it from separating.
"When you churn cream, the fat globules in the cream collide and the membranes surrounding the globules get stripped off. Those membranes go into the buttermilk, and they contain phospholipids that provide the emulsion stability you need to make a good cake," Robert Bradley, Ph.D., emeritus professor of food science at the University of Wisconsin-Madison, explained when I described the night/day results I'd achieved with Kate's.
Indeed, Kate's Buttermilk turned my yellow cake—Gourmet Live's first-birthday cake, in fact—into something so dreamy, I had to hunt down the source of this incredible product. That led me directly to Daniel Patry, founder of Kate's Homemade Butter in Old Orchard Beach, Maine. And as I learned, you can't talk buttermilk without talking butter.
Patry has been making slow-churned butter in small batches for more than 30 years—initially as a hobby, which in 1981 spawned a start-up—in what was originally the garage of his home. For decades, Patry focused on the butter, keeping only as much of the leftover buttermilk as his wife might want for baking. But over time, this entrepreneur recognized a business opportunity in a by-product too good to discard. When Patry's youngest son, Lucas, joined the family business in 2005, fresh from two years on an Alpine farm making cheese and butter, the two of them developed and fine-tuned the buttermilk, culturing it to give it body and a refreshing flavor—tasty enough to drink—plus a longer shelf life. "When we stir up the tank once the culture is set, it has such a nice aroma," waxes Patry. "Oh, it's beautiful. I love the stuff."
Even though the culturing process is simple in concept, Patry details a series of steps as well as precautions taken to prevent bacterial contamination. "You've got to be 100 percent clean," he notes, to meet stringent sanitary standards. When asked why other dairies don't bottle and sell their real buttermilk, Patry contends, "I don't think they want the headache. It's a lot easier to dump skim milk in a tank and culture it than it is to do what we do."
Patry is no less finicky about his butter. Kate's doesn't hold its product longer than two weeks, whereas large commercial dairies may store their butter in freezers for months, then run it through machines to soften and repackage it. "Take a piece of our butter," says Patry proudly, "and let it melt in your mouth, and you will see that you get a nice, clean taste—no grease, no aftertaste. If you eat some of theirs, you'll get a greasy taste." Butter, being neutral, easily absorbs flavors around it. That's why Kate's has traditionally wrapped its product in foil—and, in a recent innovation, plastic tubs. Multiple tests within the industry have proven that foil is better than wax parchment paper at protecting butter, but it's expensive, so many dairies stick with paper. Not Patry. And the awards won by his butter (2006, 2008) and buttermilk (2009) at the important World Dairy Expo are a testament to his standards.
Cows and cream are in Patry's genes. His grandfather and uncle were dairy farmers in Minot, Maine, about 40 miles northwest of Portland, and Patry worked at his uncle's side in his youth. That's how he first learned to make butter, a hobby he continued until launching Kate's Homemade Butter, named for a niece whose likeness continues to adorn their packaging. Truly a cottage industry, Kate's was first staffed by Patry's wife, Karen, and mother-in-law, while Patry kept his day job at nearby Oakhurst Dairy. Patry would haul home gallons of Oakhurst cream for the daily butter production. The handcut and handwrapped 1-pound blocks would go back with Patry to Oakhurst the next morning, for distribution within the state. Back then, the profits were literally butter money for his wife and mother-in-law—not enough to support the family.