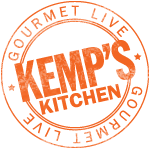 When I was in the eighth grade, a friend invited me over for dinner, and that single meal made such an impression on me that it has defined my style of entertaining. There were six kids in her family, and that evening there were additional guests besides me. Numbers like that would have frazzled my mother, but they didn't faze Peg's mom. She'd made curried chicken, something new to my taste buds, yet it wasn't the chicken that wowed me so much as the lazy Susan packed with little bowls of condiments in the center of the table: Toasted coconut shreds, raisins, chopped scallions, and crushed peanuts were just a few of the many offerings. Spinning that lazy Susan and passing the toppings back and forth made for a boisterous evening of laughter and stories.
I was reminded of that meal years later, during my college years in Massachusetts, when I made the obligatory trek to Boston, specifically Somerville, and stood in line for over an hour in the February cold so that I could experience the phenomenon of Steve's Ice Cream, where you selected from myriad "smoosh-ins"—bits of candy bars and cookies—that were kneaded into the ice cream on a marble counter, allowing you to design the dessert of your dreams. No one minded the winter chill; we were all too busy talking about our ideal ice cream and mix-in combinations. And it turns out Steve was onto something, of course. Not only did that original shop spawn a Steve's chain, but along came Cold Stone and local mix-in practitioners like Battenkill Valley Creamery…
Bottom line, being able to customize your food is one of the secrets to a great dinner party with lively conversation. Whether it's curried chicken or a pot of beans on the table, the inherent informality of stews and soups brings people together to share the common good, while letting them express their individuality in how they season their meal with condiments. Just as Burger King always told us, we humans like the opportunity to have it our way when it comes to what we put in our mouths. The control freak gene exists in varying strengths in all of us, and when we're given the chance to add a smidgen of this and a dollop of that to the main dish, we're happy. Once we've doctored up our own serving, it's fun to check out what others have done. Condiments get passed or the lazy Susan gets spun, and the conversation rolls right along, too.
After the curried chicken, which I later recognized as a version of that Southern standby Country Captain, the next dish with lots of optional additions I encountered was a Mexican pozole. As Shelley Wiseman points out in her brand-new recipe for Vegetarian Red Pozole with Red Beans featured in this issue, pozole is the name of the stew and the type of large dried corn kernels—as big as Chiclets—that when cooked expand into chewy puffballs of corn. The stew is more commonly made with pork, but no matter what the main ingredient is, the exciting part comes when it's served. Plunk the soup pot in the middle of the dining table, and surround it with bowls of shredded lettuce, shredded radish, chopped onion, dried oregano, and lime wedges, then watch your friends pile it all on. You can expand the array with bowls of Mexican crema (sour cream) for drizzling, crumbles of Cotija cheese, and cubes of avocado. It's colorful, refreshing, and blow-your-hair-back fun.
My favorite party dish revolves around black beans and rice. It's a concoction that evolved over time as I played with the seasoning on the beans and kept adding more mix-ins. The black beans constitute a hybrid of flavors that somehow make magic together. The stewed beans contain my trinity of deliciously fermented liquids: soy sauce, balsamic vinegar, and sherry. I'm partial to cream sherry, but really any sherry will do. The end result is not Mexican, nor Asian, nor European; it's just plain good. My health-conscious husband originally urged me to serve it with brown rice, but it only took one bite to realize that brown rice is just too heavy for these beans. Surprising as this may sound, our favorite rice to pair with this is delicate basmati.