---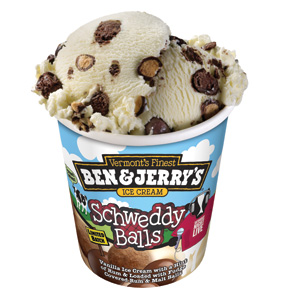 Schweddy Balls
Earlier this year, Ben & Jerry's came out with the latest of its TV-inspired ice creams: One of them was the controversial
Schweddy Balls
, based on the
Saturday Night Live
sketch "Delicious Dish," which parodies such NPR food shows as
The Splendid Table.
Guest host Alec Baldwin plays Pete Schweddy, the owner of the fictional Season's Eatings bakery whose signature item is
Schweddy Balls
. B & J's limited edition take on Schweddy Balls: rum-flavored vanilla ice cream with fudge-covered rum and chocolate malt balls.
---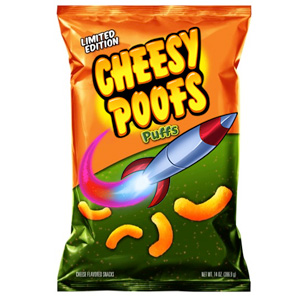 Cheesy Poofs
To celebrate the show's 15th year on TV,
South Park
character
Eric Cartman's favorite food
became a reality earlier this year, when Comedy Central joined forces with Frito-Lay to produce a limited run of Cheesy Poofs (cheese-flavored puffs).
---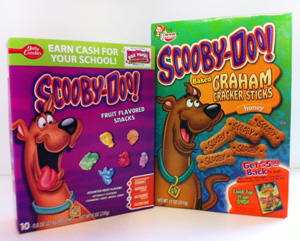 Scooby Snacks
Jinkies! Kellogg's Keebler brand makes
Scooby-Doo Graham-Cracker Sticks
, treats shaped like dog biscuits, but these goodies are meant for those of us who walk on two paws.
General Mills' Betty Crocker brand also offers fruit-flavored gummy snacks
based on the favorite food of the famous mystery- solving Great Dane Scooby-Doo.
---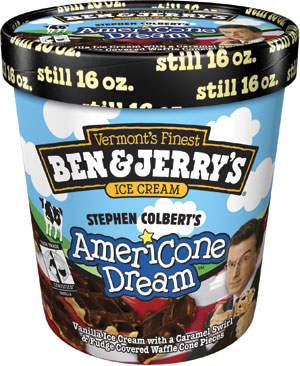 AmeriCone Dream
The brain-freeze child of
Stephen Colbert and Ben & Jerry's
, this patriotic treat was created in 2007. The proceeds from the sale of the
ice cream
(vanilla with a caramel swirl and fudge-covered waffle pieces) go to the Stephen Colbert AmeriCone Dream Fund, which supports various charities that provide food and medical assistance for disadvantaged children, assist veterans and their families, and benefit environmental causes.
---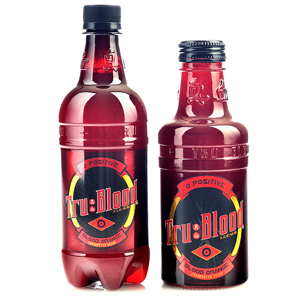 Tru Blood
On the HBO hit series
True Blood
, the vampires drink a bewitching orange-flavored beverage to quench their thirst for blood. And now the unbitten can buy the
bloody libation
in its universal flavor, O Positive.
---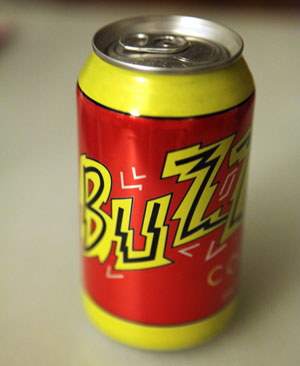 Buzz Cola
In 2007, when
The Simpsons
came out with a movie after 20 years on TV, everyone had a cow, man. To celebrate the event, 7-Eleven sold a number of products that the Simpsons had been eating for years, including Frosted KrustyO's cereal, Buzz Cola, Duff Energy Drink, and Squishees.
---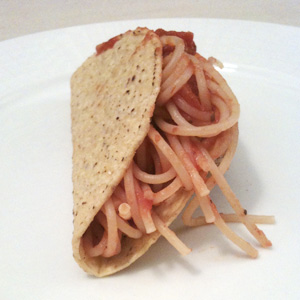 Spaghetti Tacos
An unexpected—and unmarketed—sensation,
spaghetti tacos
took the nation by storm in 2007. The main character on Nickelodeon's hit
iCarly
asks her wacky brother to make dinner. His solution: taco shells stuffed with spaghetti. Kids across the country were soon requesting spaghetti tacos for dinner.
---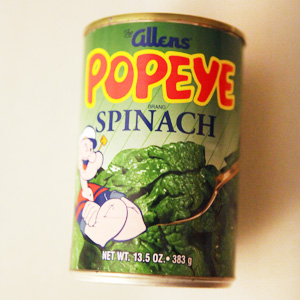 Popeye Spinach
Well, blow me down! Want to be as pumped up as Popeye himself? Cans of Popeye Spinach, now produced by
Allens
, have been available since the 1950s.
---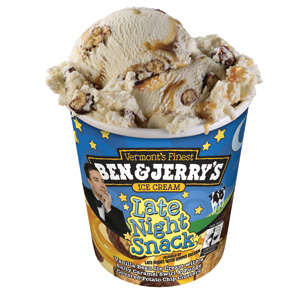 Late Night Snack
Nighttime TV meets nighttime snacking in
Ben & Jerry's Late Night Snack
, introduced in March of 2011. The combination of vanilla ice cream with fudge-covered potato chips and caramel was created after Jimmy Fallon sang about his love of the brand's ice cream on his show.
---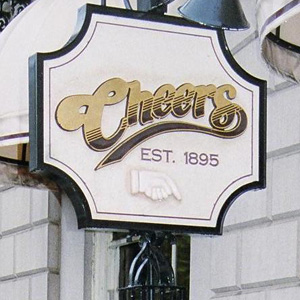 Cheers
Our final entry isn't a product, but it puts the
place
in product placement: The long-running
Cheers
was inspired by Boston's Bull & Finch Pub, but the show was so popular that the bar was renamed Cheers (the better to be found by TV-loving tourists); a second outpost opened in Faneuil Hall. Both locations serve show-inspired fare, including the Giant Norm Burger, Carla's Pasta Primavera, Rebecca's Fish & Chips, Sam's Turkey Sandwich, and Cliff's More-Than-A-Grilled-Cheese. No guarantees that everyone will know your name…