Summer, surf, and sun rouse appetite for carefree meals. A do–it–yourself picnic can be great fun (albeit some work), and nothing beats eating a fish you caught that morning, but what we like best is to find a nearby restaurant with a flip–flops dress code and a sleeves–up menu. Here are five favorites from around the country, all just moments from beautiful sandy beaches:
Hodad's; Ocean Beach, California
The house motto at this surfer–friendly burger bash: "No shirt, no shoes, no problem!" The house specialty: an extremely well dressed hamburger. Proprietor Mike Hardin, whose parents started Hodad's as quite literally a shack on the beach—hodad meaning a non–surfing sun–worshipper—explains the burger's construction in precise detail: First, mayonnaise and mustard are spread on the bun bottom. Next come crunchy hoops of raw white onion, onto which are piped ketchup, whose fruitiness deactivates the onion's sting. Atop the ketchup goes a sheaf of dill pickle slices, their puckery tang balancing the sweetness below. Onto the pickles go slabs of beefsteak tomato, followed by shredded lettuce. Then the grilled hamburger patty (or maybe a deuce of patties) arrives, all crusty and oozing enough juice to seep just a bit into the tower of condiments it tops. (Above the burger, cheese—Swiss, American, or Cheddar—and bacon are popular options.) Finally, the bun top is applied and the sandwich is enveloped in wax paper so that only one third is exposed and the rest is snugly wrapped.
"That paper is your burger trough," Hardin advises, explaining that it helps keep the immense creation whole, but experienced Hodaddie hotdoggers (show–offs) can hold it secure in one mitt while hoisting a silver–beaker milk shake with the other. To our knowledge, no one has opted for Hodad's all–you–can–eat deal, which currently is $100.25. (One double bacon cheeseburger with the works is $11.50.) (5010 Newport Ave., Ocean Beach, CA; 619–224–4623)
Waves of Grain; Cannon Beach, Oregon
The coastline around Cannon Beach, Oregon, wins our vote as the most exquisite in America, a magical place to fly a kite, watch for whales, sculpt sand, ride a horse, surf the waves, or quietly meditate in the presence of Haystack Rock, the mighty monolith just offshore. One block from the beach on a village street is a charming little cottage turned into a bakery café called Waves of Grain. Run by oven maestros Jason and Hillary Fargo, who delight in explaining the provenance of the wheat they use (eastern Oregon, mostly), the cozy shop is a great destination for pre–beach breakfast or midday lunch; and it provides countless choices of such take–home and take–to–campsite fare as coconut tarts, pots de crème, and raspberry Tiramisù by the pound. We are especially fond of the Fargos' Tillamook cheese biscuits with crisp edges and creamy insides, as well as chocolate buttermilk cupcakes on which fudge icing is crowned with purple flower petals and an Oregon raspberry. (3116 S. Hemlock St., Cannon Beach, OR; 503–436–9600)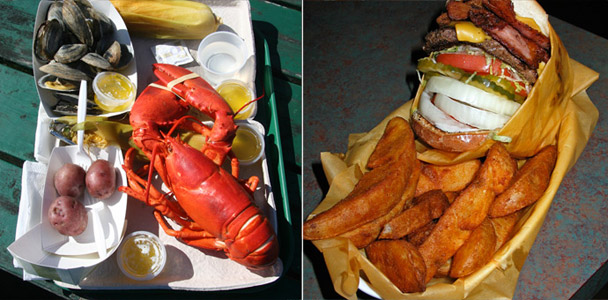 Lobster Dinner from Five Islands Lobster Company / Hodad Burger.
Flip's Bar–B–Que; Wilmington, North Carolina
Flip's is one of the finest but least–touted barbecue parlors in the 'cue–crazed state of North Carolina. The inconspicuous enterprise on a Cape Fear country road a few miles west of Wrightsville Beach was opened 61 years ago by Leonard "Flip" Watts, who turned it over to current owner Bob Church in 1986. Although the menu lists fried chicken and ribs and a Flip burger (fried bologna sandwich), the meal we recommend is hickory–cooked pork, preferably hacked into a smoky hash that includes cream–soft chunks, chewy shreds, and a few nuggets with serious crunch. The 'cue is moistened with just enough tangy, peppery vinegar sauce and piled into a bun with mustard–tinged coleslaw—a hearty serving of Tar Heel heaven! For a fuller meal, have a pork plate: more of the same meat plus tubular hush puppies and sides that include traditional Brunswick stew. A recent menu addition, which sounds silly but tastes good enough to squelch cynical doubts, is fried mac and cheese. It arrives as hot little triangles of golden crust that enclose clusters of mini elbow noodles in molten orange cheese. (5818 Oleander Dr., Wilmington, NC; 910–799–6350)
JB's Fish Camp; New Smyrna Beach, Florida
JB's really is a fish camp, offering kayak rentals, bait for catching redfish, and slips for arriving boaters in addition to a parking lot for cars. Located along the Canaveral National Seashore between the Mosquito Lagoon and the Atlantic Ocean, it provides diners with outdoor seating on the water where lucky ones will be able to glimpse manatees and porpoises cavorting nearby. Captain John A. Bollman, who runs the place, is a passionate crabber (the restaurant nabs its own), a fact evident in the snowy crab cakes and a "crabulous sandwich," which is nothing more than cool, fresh crabmeat, mayo, and a jot of spice. Blue crabs are sold by the dozen, infused with whatever degree of JB's proprietary spice mix you specify; and there are soft–shells, stone crab claws, and snow crab clusters. Plus a full array of oysters, scallops, pink shrimp and rock shrimp, and clams straight from JB's waters. (859 Pompano Ave., New Smyrna Beach, FL; 386–427–5747)
Five Islands Lobster Company; Georgetown, Maine
If you want to go for a swim near Georgetown Island, Reid State Park offers a lovely sandy beach. The other side of Harmon Harbor, two miles farther down east, the water that surrounds Five Islands Lobster Company, at the end of the road on the docks, is too cold for swimming. Thankfully, the low temperatures make it just right for lobstering: When it is properly cooked, a denizen from these icy depths fairly bursts out of its shell with firm, sweet meat. Pick your own from the tank and tell the cook if you want it as the centerpiece of a full–bore shore dinner with a pound of steamers and potatoes and sweet corn boiled in briny water. For those too impatient to wait for their chosen lobster to cook, there's a quick–gratification menu of lobster rolls, chowder, crab cakes—even hamburgers and hot dogs—and crisp fried whole–belly clams that are second to none.
BYOB and dine at a weather–beaten picnic table on the dock, where the achingly beautiful view is of five pine–tufted islands just off the coast and lobstermen bringing in their catch. Gulls swoop overhead through air that smells of the sea and of the come–hither perfume of hot lobsters and drawn butter. This is the ultimate Maine coast lobster–eating experience. (1447 Five Islands Rd., Georgetown, ME; 207–371–2990)
---
Jane and Michael Stern are the authors of Roadfood, the eighth edition of which was published in June 2011, and were longtime contributors to Gourmet. They currently operate Roadfood.com, the Web site guide to good eats all around the U.S.A.