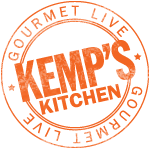 In my house, nothing says summer or Father's Day like strawberry shortcake. That's what my dad taught me, and it's always been that way, as you can see from the column I wrote on this topic for the June 1993 issue of Gourmet. And don't miss my updated strawberry shortcake recipe below. The family tradition—now on its fourth generation—hasn't changed, but the recipe just gets better.
Strawberry Shortcake
originally published in "Forbidden Pleasures," Gourmet, June 1993
By Kemp Miles Minifie
To my family, strawberry shortcake is, for most of the year, a forbidden pleasure—not because of the heavy cream but because of the strawberries. Supermarket fruit that knows no season will not do; this summer delight must be made with locally grown berries. Although technological advances have turned strawberries into a year–round commodity, nothing will ever compare to a freshly picked berry—sweetly succulent and red to the core. Whereas caviar and chocolate are always present to lead us into temptation, the very best of any fruit is rationed by Mother Nature herself.
My father should know: He was raised in an era when strawberries could be only a once–a–year indulgence. To this day, the thought of eating them in any month other than June—when those near his Washington, D.C., home are ripe—is anathema to him. And thanks to the proliferation of pick–it–yourself farms, he has been able to satisfy a craving for his favorite summer berry. Every year, when word finally comes from a nearby farm that the strawberries are ripe, nothing can get my father there fast enough. Outfitted in his expedition uniform of khaki trousers and matching shirt and topped off with a genuine pith helmet, he attacks the rows of strawberry plants like a big–game hunter stalking his prey. And, like a hunter, he relishes the hunt as much as the prize itself. His children and grandchildren slip immediately into the "one for me, one for the basket" method of picking, but my father rarely samples the goods, so intent is he on filling the quart containers.
If my father is persnickety about his strawberries, he is equally so on the subject of strawberry shortcake. The way his mother made it is the way he likes it. His version never resembles the high–rise, picture–perfect spongecake concoctions that twirl in coffee–shop windows, but no other rendition I've tasted can beat it. The secret, he says, is mashing the berries just enough to bring out their juice without crushing them into a pulp. The mash is then left to sit and "get better" while the biscuits are put in the oven. As the biscuits are cooling the cream is whipped until it is thickened but nowhere near stiff. (In recent years we've discovered that a touch of sour cream adds the tang and shine my father remembers in country cream.) When the elements are ready, the biscuits are fork–split, drowned with strawberry mash, and dolloped with hillocks of creams.
No matter how much cream is whipped, there never seems to be quite enough for my father. Any protestations about his indulgence are put to rest when he reminds us that this is a summer ritual he's repeated for most of his eighty–five years. Come the summer solstice, we'll be celebrating his eighty–sixth birthday on the front porch with a candle stuck in his strawberry shortcake.
Author's note: My father enjoyed three more birthday celebrations with strawberry shortcake before passing away two months shy of his 90th birthday in 1997. I continue to serve this dessert to my husband and children in honor of Father's Day and the summer solstice, so the tradition lives on.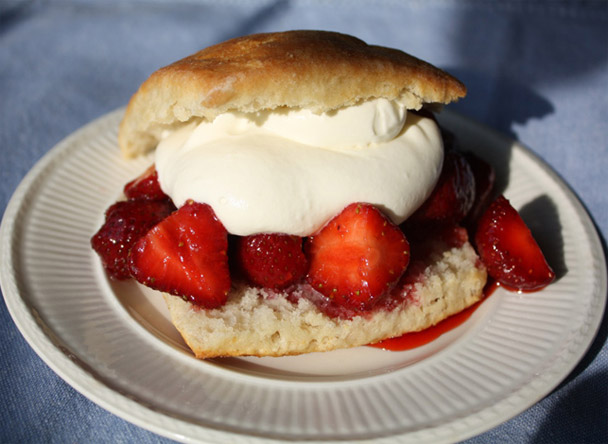 Photo: William Minifie
If you pick your own strawberries for this recipe, fill two quart–size containers. The next best thing is two quarts of fresh strawberries from your local farmers' market.
Strawberry Shortcake
Makes 6 servings
Active time: 35 min
Total time: 1 1/4 hr (includes making biscuits)
INGREDIENTS:
2 quarts (2 1/2 pounds) strawberries, trimmed and halved or quartered (7 1/2 cups)
1/3 to 1/2 cup granulated sugar, or to taste
1 cup chilled heavy cream
1/4 cup sour cream
1 1/2 to 2 tablespoons confectioners' sugar
1/2 teaspoon vanilla
6 buttermilk biscuits (recipe follows)
EQUIPMENT:
A potato masher
INSTRUCTIONS:
Toss strawberries with granulated sugar in a large bowl and let stand 5 minutes. Gently press strawberries with potato masher to help release their juices, being careful not to crush them to a pulp. Let stand at room temperature, stirring occasionally, 30 minutes to 1 hour.
Beat together heavy cream, sour cream, confectioners' sugar (to taste), and vanilla in a bowl with an electric mixer at medium–high speed until it holds a soft shape (not stiff).
Split biscuits horizontally with a fork and arrange bottom halves on each of 6 plates. Top with strawberries and juices, followed by whipped cream, then top halves.