To find Robert Barnum's Possum Trot Tropical Fruit Nursery via GPS should be a simple affair. It is only 25 miles southwest of Miami's bustling Design District; a numbered address on a numbered street. Start driving; you will be sent down crowded highways and through miles of suburban sprawl, past strip malls and more strip malls, until, eventually, the suburbs give way to farmland and the roads give way to gravel. You will see peacocks and packs of dogs roaming wild along these pocked farm roads, but you won't see Possum Trot. The constellation of satellites that have Miami mapped down to the inch can't help you find Barnum's self–made Eden. This fact brings Barnum no small measure of joy.
Possum Trot sits on 40 acres in Miami's Redland district, which along with Homestead is the agricultural heart of South Florida. That South Florida even has an agricultural heart is a surprise to many; not least of whom are South Floridians themselves. Ask a local about crops and you'll hear about citrus, or maybe strawberries. More politically minded people will know about the plight of the state's tomato pickers, or about Big Sugar and the ecological havoc it wrought on the Everglades. Less known, though, are the hundreds of varieties of mangoes and bananas that grow there; exotics like jackfruit and lychee; and ground crops like okra and green beans. The variety of food that is produced within 50 miles of downtown Miami is as staggering as it is underappreciated.
There is a steadily growing movement to increase both the awareness and consumption of this local harvest. One of the most visible advocates for growers in the area is James Beard Award–winning chef Michael Schwartz, of Michael's Genuine, in Miami's Design District. He, along with farmers like Margie Pikarsky and Gabriele Marewski, and local blogger Marian Wertalka, work to bring not only people to the Redlands but the Redlands to the people.
One of the more comprehensive initiatives on this front was the 2011 Earth Dinner, part of a series initiated by the Chefs Collaborative. About 40 people gathered at Possum Trot on a Saturday in late April, for a seven–course dinner produced almost entirely with locally sourced ingredients. An hour before guests arrived, the silver–haired Barnum and his crew were in full hustle; chopping, slicing, and sautéing. They were in the homestretch of a meal they'd been working on for the better part of a week.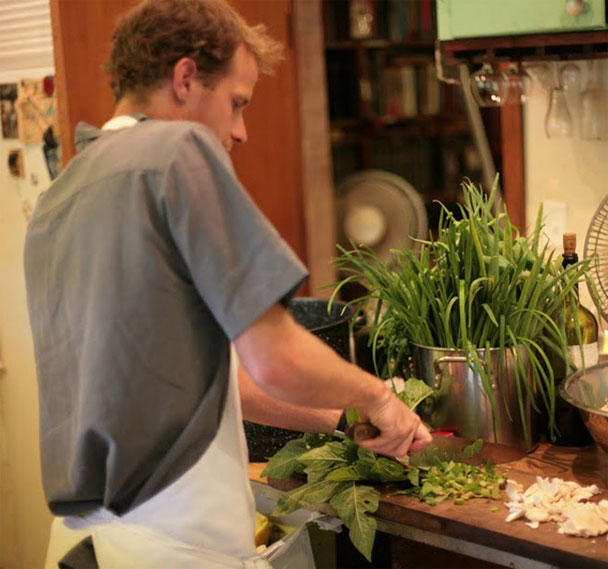 Callaloo chopping at Possum Trot.
By 6 p.m., changed from his work–battered T–shirt into a crisp turquoise guayabera, Barnum was ready to lead the assembled guests on a predinner tour of the grounds. At the center of Possum Trot is Barnum's house, built in 1946 by his uncle, in the old Florida Cracker style; that is, surrounded by a deep, shaded porch and with high vaulted ceilings of local cypress, both of which are intended to keep the house cool without air–conditioning. Stocked with the accumulation of 65 years of Barnums living and working on these grounds, the interior is overflowing with family heirlooms. The land around this house feels organic and unordered. Barnum prefers to start his trees from seed rather than cuttings, to indulge nature's proclivity for mutation and variation. (For a more orderly and easily accessible version of Possum Trot, visit the nearby Fruit and Spice Park; it is the Felix Unger to Possum Trot's Oscar Madison.)
"I plant randomly like God does in the forest. It confuses the viruses, it confuses the bugs, and it confuses the government inspectors," Barnum explained with a slightly mirthless laugh. Florida's ravaged economy and dysfunctional political system are as perilous to local farmers as are the droughts and hurricanes that regularly savage the state. Many growers are left feeling alternately beleaguered and persecuted. In the face of this, Barnum has created both an Eden and a fortress against the outside world.
His wariness has a counterweight in his love and knowledge of local botany. He knows each tree and plant growing on his land like a parent knows a child. He showed the group jaboticaba and bignay trees, the fruits of which he turned into wines that would be served with dinner. (There was also a surprisingly drinkable avocado wine from nearby Schnebly Redland's Winery.) The tour passed mahogany trees, macadamias, and countless types of mango.