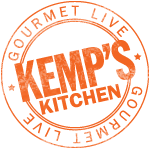 Twelve years ago I was lucky enough to spend a week with Kennedy in a "boot camp" at her research center in Michoacán, and we've kept in touch ever since. I find her endlessly inspiring, and I believe Oaxaca al Gusto is her most amazing book yet—the culmination of more than 54 years of very personal research, traveling all over Mexico and learning from the many regional home cooks who generously brought her into their kitchens and taught her their family specialties. Reading the book is like being a passenger in Kennedy's white Nissan pickup truck, as she explores each unique region (some quite remote) of the diverse and magical state of Oaxaca, meeting wonderful, salt–of–the–earth cooks, learning about the ingredients native to their specific area, and their varied cuisines—and documenting it all in photographs. Of her trusty truck, Kennedy, 88, says wistfully, "I only wish it could speak. What stories it could tell of our adventures together!"
No doubt Kennedy will hear the familiar complaints about the length, difficulty, or inaccessibility of some of the recipes in this book—those for wasp–nest sauce and turtle eggs in broth spring to mind—but it won't faze her. "Forty percent of the recipes in Oaxaca al Gusto you can do without any trouble at all," she declares. "Twenty–five to thirty percent you'll have to spend a little effort tracking down ingredients." And for those who might question the relevance of Mexican food, Kennedy has a withering retort. "Here's a country with which you share a 3,000–kilometer border. Why on earth aren't you interested?"
Kennedy has never catered to the dilettante looking for speedy weeknight suppers. Instead, she's obsessed with documenting how native peoples nourish themselves with the flora and fauna growing in their midst. She herself truly shares their pioneering spirit. She left her native England after World War II to work in Canada and travel. It was in Haiti that she met her future husband Paul Kennedy, the New York Times correspondent for Mexico and the Caribbean, whom she joined in Mexico City within a few weeks. There, she was instantly intrigued by the food. After nine years of happy marriage, Paul's life was cut short by cancer, and Diana suddenly found herself alone in New York City with very few acquaintances. It was then that Craig Claiborne, famous food editor of The New York Times, invited her to dinner and suggested she teach Mexican cooking. It wasn't long before a publisher called with a book contract. Kennedy has been researching, writing, and teaching ever since.
I called Kennedy the week before she won her latest James Beard Award to ask about her life in Mexico and, especially, about the everyday ingredients she grows, harvests, preserves, and, of course, cooks in her "research station" in Michoacán State, near two monarch butterfly sanctuaries outside the town of Zitácuaro. Talk about locavorism… The woman all but invented it.
What's in Diana Kennedy's Fridge
The English expat Mexican expert could easily win a smackdown against the most ardent hip Brooklyn DIYer. Here's what she told me about the contents of her icebox:
"I would say half of the time I cook Mexican, and the rest is a 'fusion.' I always have (homemade, natch):
A pot of rice and a pot of beans
Chipotles in Adobo, a great recipe I invented in My Mexico
Chipotle Chiles in Vinegar, from The Art of Mexican Cooking
Aunt Georgina's Sauce, from The Essential Cuisines of Mexico
Jalapeños in Escabeche, from The Art of Mexican Cooking
Moroccan pickled lemons (from a lemon tree in my garden)
Dill pickles (from my neighbor's cucumbers)
Green tomato chutney, from my book Nothing Fancy
Foie gras —It's Mexican duck liver and very good. I do a torchon—I wrap it in parchment and poach it. I keep it frozen for those days of solitude.
Jams and ates—I make all my own jams and fruit pastes. I just made guava and quince ates.
1 kilogram of duck fat for sautéing potatoes
Pineapple and banana vinegars
Bread. I grew 19 kilos of wheat this past year. I grind it and make all kinds of breads, from tortillas to Italian–style loaves I bake in my adobe oven outdoors.
Coffee. I grew 5 kilos of coffee beans last year!"
You get the picture. Kennedy's coffee is the ultimate made–from–scratch product. She does it all, from nurturing, harvesting, and removing the juicy red fruits that enclose the beans to fermenting, drying, roasting, and grinding them. It's a dream come true for the coffee connoisseur.
The Eco (and Chile) Pioneer
As we talked on, it struck me afresh how Diana Kennedy was doing "eco" decades before it became a buzzword. I remember the first thing you see when you walk in the door of her ecologically designed adobe house is a giant rock in the middle of the front hall—the architect had discovered no blasting was allowed in the area.
Water is a precious commodity in Michoacán. Kennedy collects rainwater in a large tank during the rainy season; this water is first used for the kitchen, wash basins, and showers, then filtered and recycled for the lavatories. Showers are no more than two minutes long (turn off while soaping, turn on briefly to rinse); dishwashing water is put in a zinc tub and heated by the sun, and any student found holding plates under a running tap gets an immediate scolding. Kennedy hoped to fuel the kitchen stoves with methane from the cow shed, but, sadly, that didn't work out.
The garden is a botanical treasure chest, with loads of plants from Kennedy's travels. Curiously, corn does not thrive on her land, but wheat does really well. Criollo avocado trees were already on the property. Unlike the alligatorlike skin of the Hass avocados, their skin is so tender, you can mash it up along with the flesh. Nothing is wasted here. Absolutely nothing. At boot camp, Kennedy got mad if we took too big a helping and didn't clean our plates. "For heaven's sake, ask me for a smaller portion," she'd admonish us. "I hate waste!"