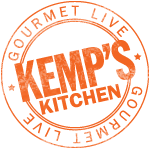 Chefs never mentioned the pressure cooker at the culinary school I went to in Paris. Stews were slowly braised in heavy enameled cast iron pots for hours on end. The idea of speeding up the act of cooking would have been close to heresy; the glory of so much of French cooking was in the process, which provided enticing aromas with each—sometimes laborious—step.
Armed with my French cooking school degree, I made my way to New York City and a small food public relations firm. When the firm landed the Mirro Pressure Cooker account, I was primed for the job of testing and developing recipes. The office test kitchen was on the second story of a tiny Midtown brownstone and it hummed for months with the hissing cacophony of four or five pressure cookers all going at once. Most friends, when they heard what I was doing, expressed their fear of pressure cookers, which always surprised me because the big pots were such an important part of my mother's batterie de cuisine. "Don't they blow up?" my friends would ask. "Okay, so, dinner's been spewed onto the ceiling a few times," I'd admit. "But nothing serious." In the four to five months I spent testing recipes in these pots, the jiggle tops popped off maybe three times, with no harm done.
Did I have my own pressure cooker? No. Ownership of a cupboard-hog like that wasn't on my radar at the time. Anyhow, after a day in a test kitchen, sampling everything I made along with everything everyone else had made—first at the PR firm and later at Gourmet magazine—I was more inclined towards a beer and some chips than a full-scale supper.
It wasnt until I married and had children that I realized I really needed a pressure cooker of my own. Like so many earnest parents of our generation, my husband and I vowed to feed our precious little offspring lots of whole grains and legumes, along with heaps of dark leafy greens—an admirable idea, except that those wholesome foods take so much extra time to prepare. When it came to a choice between going outside to the park to play or staying inside to keep an eye on a long-simmering pot of beans, I knew the time had come.
Fortunately, by then engineers had redesigned the machines, adding a slew of safety features that prevented them from blowing their tops. No more jiggle tops to scrounge around for in the bottom of kitchen drawers. The safeguards were built right into the lock-on lids and all you had to do was press a button or slide a switch to get started. I discovered I could take a bag of black beans from dried pellet to tender in about 40 minutes—no soaking involved. Compare that to a regular top-of-the-stove simmer that could take as long as 3 hours! Poached chicken and chicken stock are a two-fer and a cinch. I'd buy a chicken, add about 6 cups of water, a few of the standard veg—onion, celery, and carrot—and in 15 to 20 minutes I'd have a beautifully tender bird with a golden liquid elixir. To get the most out of my bird, I'd cool it enough to remove the meat, then throw the bones and skin back in the stock and cook it another 30 minutes or so, or sometimes as long as an hour, and I'd be rewarded with the most chicken-y broth imaginable.
With missionary zeal I started touting the benefits of the pressure cooker to my Gourmet cohorts. Most shared the fear expressed by my friends from my early years in New York. It wasn't until Gina Marie Miraglia Eriquez joined the food department that I found an equally vocal fan of the pressure cooker. This was a young woman who knocked our socks off in the test kitchen with the delicious food she produced every day. Miraglia Eriquez grew up in Howard Beach, Queens, in an Italian American household that was all about food. She regaled us with stories of holiday feasts, when the extended family of more than 30 people gathered for day-long meals. Going by her descriptions, the best was Thanksgiving, when artichokes stuffed with soppressata, bread, Parmigiano, and provolone and crammed into four huge pressure cookers monopolized her mother's stovetop. And that was just the first course. There was pasta to follow before the turkey and side dishes would even come into view.
A pressure-cooked artichoke is one of the most convincing arguments there is for buying one of these pans—and for eating lots more artichokes. The artichoke leaf is a pretty tough character and it needs the power of the pressurized steam inside the cooker to get really tender—tender enough that you can scrape the whole leaf, top to bottom, back and forth several times to scoop up every sweet morsel of tender flesh. This is why it takes my two daughters twice as long to eat an artichoke as it does to cook it, which is time well spent in pure enjoyment.
I recently served artichokes in an impromptu meal to friends who'd stopped by, one of whom happened to be a cookbook editor. The artichokes I'd bought were not at their prime, which is what made them affordable. I pushed them down into the pressure cooker, added 2 cups of water and a halved and squeezed lemon, and 20 minutes later the artichokes were on the table and no one was talking because they were so busy peeling off leaves, dipping them in lemon butter, and pulling them through their teeth. When they came up for air, our friends exclaimed, "Those are by far the best artichokes we've ever had. The leaves are so tender."