Click picture to advance the slideshow.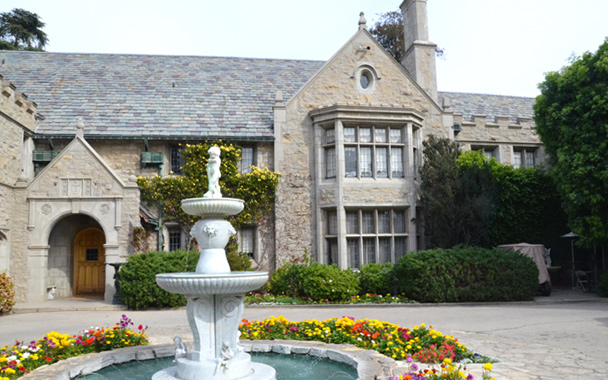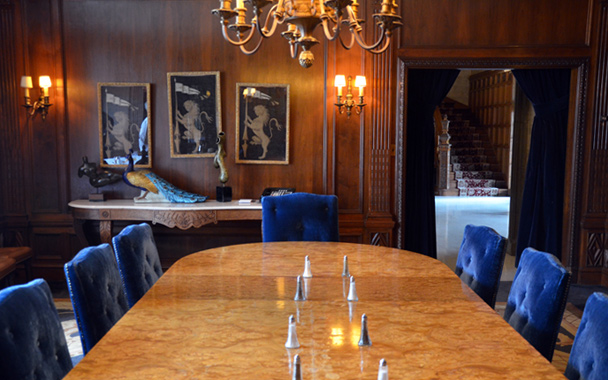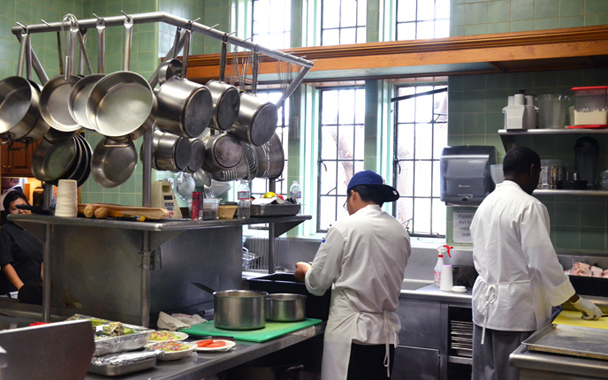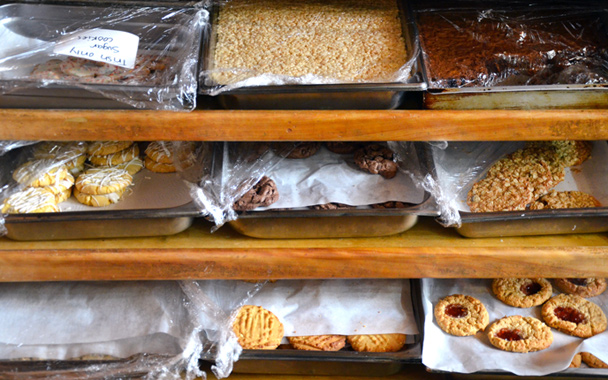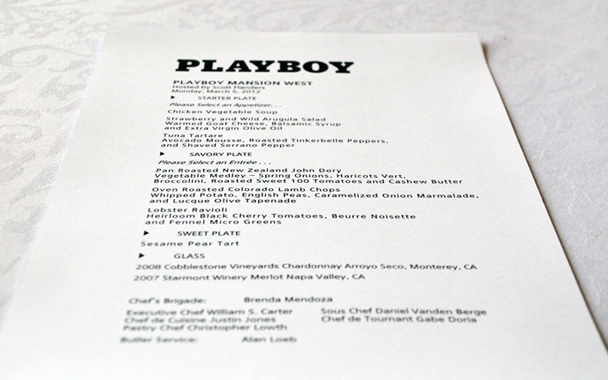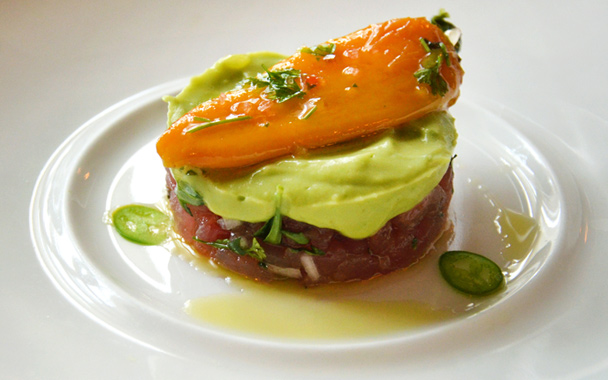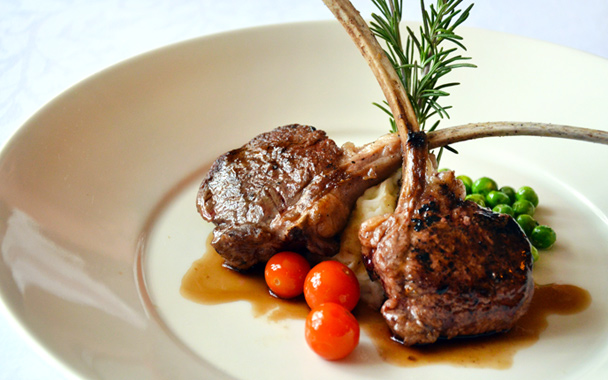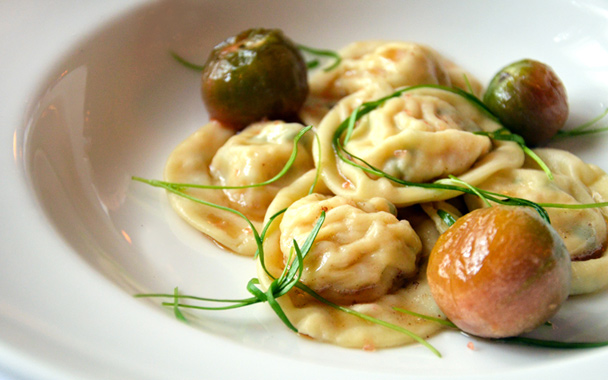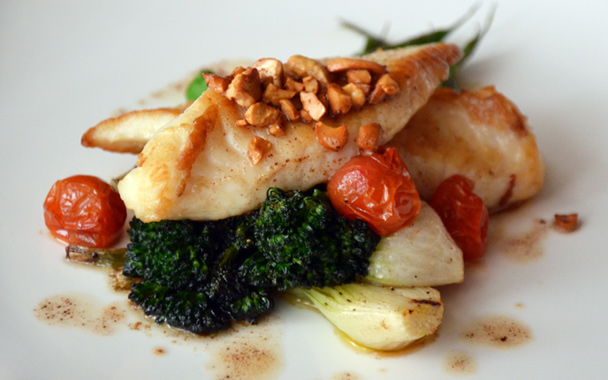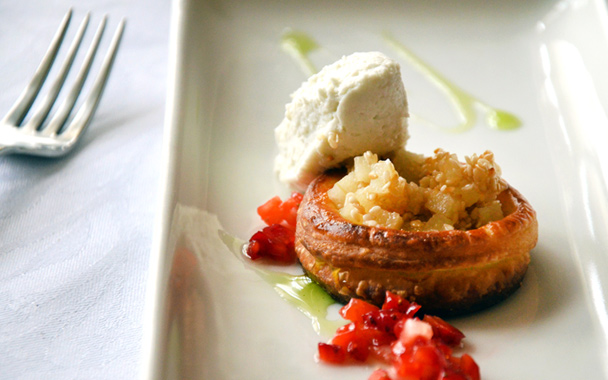 What is the first thing you think of when you hear the word Playboy? My guess is that it's not sourdough starters, veal stock, and lobster ravioli—a ménage à trois of sorts, but most likely not the one you had in mind.
The merest mention of the Playboy Mansion conjures visions of scantily clad women, lavish costume parties, and a man whose name has become so synonymous with commercial concepts of sex that he needs little introduction: Hugh Hefner.
From blowout bashes on Halloween to celebrity-packed Grammy Awards after-parties, Playboy Mansion is the sexiest and most iconic estate in all of Los Angeles for entertaining Hollywood's elite. It is also the home of Playboy founder Hefner, now 86 and vigorous enough to have bought back Playboy Enterprises last year (the company has been public for decades), while also getting engaged, and then famously unengaged, to Playmate Crystal Harris, now 26. But often overlooked amid the gossip and glitz is the property's 24-hour, $1.2 million food-service operation, and the cook who's been top toque for the past 26 years—the mysterious man in the white jacket behind the totally unmysterious man in the velvet smoking jacket.
It's 11:30 a.m. on a Monday and I'm winding my way through the halls of Hef's hideaway, located just one block from famed Sunset Boulevard. It's quiet and calm. There's not a stray pair of bunny ears in sight. I make a sharp right turn into the butler's quarters. "This really is the heartbeat of the mansion," explains my guide, William Bloxsom-Carter, executive chef and food and beverage director of Playboy Enterprises, Inc. One more turn and we're in the main kitchen, where four chefs are hard at work prepping for the evening's Immortals release party.
"I have a staff of 12 full-time chefs who are here around the clock," explains Bloxsom-Carter as he settles into his desk chair with a view into the kitchen. "Everything is made from scratch, including those," he notes, motioning toward a large glass bakery case stocked with seven different kinds of pies and cakes. "You should see his little cookie drawer," he adds, referencing Hefner's love of freshly baked sweets. "It's actually not all that little."
I spin around in my chair to catch Bloxsom-Carter pulling out drawer after drawer of desserts, including brownies, peanut butter–and-jelly cookies, marshmallow treats, and Hefner's all-time favorite, crispy oatmeal cookies. Bakers on the graveyard shift craft all of the desserts and breads fresh daily, while chefs on the daytime shifts prepare most everything from scratch, right down to the stocks and pastas, and even run an on-site butcher operation.
Bloxsom-Carter oversees all of the mass-scale catered events hosted at the mansion, as well as the daily dining requirements of Hefner and his personal guests. Although the estate serves as Hefner's primary residence, its food service functions more like a private hotel than a traditional home.
"We have a catalog of 31 meals from which Mr. Hefner can request what he'd like to eat at any time of the day or night," says Bloxsom-Carter. "So he can call down to the kitchen and say, 'I'd like the number 6 [grilled cheese sandwich, potato chips, applesauce, and two oatmeal cookies], or the number 21 [fried chicken strips, baked potato, caper dip, and two oatmeal cookies],' and then the butlers communicate that to us."
Hefner is very particular about his daily meals and the times at which they are served. He enjoys exactly the same breakfast at 11:30 a.m. every day—a jelly doughnut from famed L.A. donut shop Winchell's and half a Star Ruby grapefruit. For lunch, it's soup and crackers, delivered at 5:30 p.m. to the resident night owl. "It's a little embarrassing because we do such insane, great food for the guests who come on the property," Bloxsom-Carter confesses, "but he's just a regular Midwestern gentleman who likes his Lipton noodle soup with his saltine crackers"—daily.
Dinner is served at 10:30 p.m., and it's one meal in which Bloxsom-Carter can really exercise his culinary prowess. "The lambs in Colorado and California are very worried about Mr. Hefner," he jokes. "Lamb chops are his favorite meal, and he has that for dinner once a week." The frenched lamb chop dinner, the recipe captured start-to-finish on the following page, is a famous staple at the mansion and is often a fixture on upscale party buffets.
Hefner dines on other Midwestern favorites, such as fried chicken or pot roast and mashed potatoes, all of which are inspired by his mother's original recipes. Bloxsom-Carter has made a concerted effort to balance the heavier meats and starches in Hefner's evening meals with California's freshest vegetables and olive oils, while also striving to reduce Hefner's sodium intake since his stroke in 1985.
"Even though I'm not a licensed nutritionist, I use my culinary tricks to get the amount of sodium under control while still giving him the desired flavor," he says. "You can trick the palate with acidity or vinegar in place of salt." Bloxsom-Carter's self-described Mediterranean approach to cooking is evident in the countless menus he prepares for Playboy Enterprises' executive luncheons and dinner parties, including the lunch I enjoyed with him and Playboy CEO Scott Flanders on the day of my visit. We dined on tuna tartare with avocado mousse, lobster ravioli with black cherry tomatoes, and a sesame pear tart with strawberries and fresh mint oil, as the companion slideshow illustrates.
Bloxsom-Carter has been at the forefront of the Playboy Mansion's vast food-service operation since 1986. His background is in restaurants, having worked his way up through the ranks rather than attending formal culinary school; instead, he credits popular Japanese-American chef and restaurateur Roy Yamaguchi as his main mentor. So how did he land a job that might make a teenage boy blush? By applying to a blind ad in the Los Angeles Times titled "Major West Coast Operation Seeks Executive Chef." After a six-week interview process, Bloxsom-Carter was handed the reins. Through the years he has turned the mansion into a culinary powerhouse, running a tight ship 24/7, 365 days a year.
Organization and attention to detail are critical to his operation, which begins each day with a 6:30 a.m. staff meeting. Chefs and sous-chefs are responsible for filling out kitchen logs every eight hours, filed for Bloxsom-Carter's review. The documents include elaborate updates on the working status and temperature readings of all refrigerators, freezers, and ovens, as well as the routine changing of the ice upon which fish and shellfish are stored. Chefs are also required to complete a fresh-egg inspection in which they pierce the shell of an egg with a thermometer to ensure they have been delivered within the food-safe temperature range of 38 to 40°F.
The quality control stretches beyond the kitchen, as Bloxsom-Carter lines up all staff members 30 minutes prior to every party, checking them from head to toe to ensure shoes are shined, hair is tied back, and earrings are out of sight. His perfectionism shines through to the organization of cupboards and refrigerators, which are inventoried nightly to assess the quality and freshness of ingredients ranging from the everyday to the exotic.
"It's important that every guest that comes on the property walks away with a positive experience," he says. The around-the-clock entertaining requires Bloxsom-Carter to log 14-hour days on Fridays, Saturdays, and Sundays. When not busy orchestrating the full-scale kitchen operation, he dedicates his time to his passion for wine, which includes judging 10 high-end wine competitions each year, as well as dreaming up menus for the mansion's next star-studded event or weekend evening buffet. "Hef has this really big sandbox, and he just lets all of us play in it," is the way Bloxsom-Carter likes to put it.
Bloxsom-Carter's recent menu creations include dishes such as thyme-basted duck breast with Banyuls vinegar-blueberry sauce, warmed Cambozola cheese tartlet, corn broth with squid ink pasta, and grilled lamb chop lollipops with pomegranate gastrique. Leftovers are plentiful, but not a single scrap goes to waste, as they wind up in the homemade feed for the countless animals living at the estate, including monkeys, birds, reptiles, and yes, even bunnies.
---
Hugh Hefner's Lamb Chop Dinner
INGREDIENTS
Lamb Chops:
4 fresh french-cut lamb chops (from 3-pound rack; see note below)
1/2 teaspoon olive oil
1 tablespoon seasoning salt
1 teaspoon ground white pepper
Lamb Sauce:
1 can Campbell's beef broth
1/2 cup cold water
1 sprig fresh rosemary (4 inches long)
1 1/2 teaspoons
Swiss Chalet Pro-Thick vegetable starch thickener
(1/4 teaspoon of cornstarch mixed with 1/4 teaspoon water can substitute)
INSTRUCTIONS
Preparing the Lamb Chops:
Trim lamb chops of all excess fat. Trim should include the bone to the eye of the chop. Season the chops with salt and ground white pepper. Place the olive oil on a plate; dip the chops in the olive oil. In a very hot, preheated sauté pan, sear the chops on both sides until they are dark brown. Three minutes per side. Cover pan and let chops sit on a low flame for an additional two minutes.
The fourth chop is for the cook to eat and determine if it is tender and tasty. If it is acceptable, serve the remaining three to Mr. Hefner. If it is not tender or tasty, start the process again by cutting from another rack of lamb.
Preparing the Sauce:
Combine the beef broth and water. Bring to a simmer. Whisk in the Pro-Thick and return to a simmer. Add the rosemary sprig and cook for only 20–30 seconds. Remove the rosemary sprig from the sauce. Keep the sauce warm.
Preparing the Baked Potato:
Wash three 90-count size potatoes. Wrap in foil and bake in oven at 350° for 90 minutes or until done. Remove from oven and place in warmer until dinner is requested. Choose the best potato: Remove foil and place on plate.
Preparing the Peas:
Open one can of Le Sueur Early Peas (15 ounces) and heat in skillet. Season lightly with a pinch of fine sea salt and 1 teaspoon of salted butter when heating. Serve about one-third of the peas in a side bowl when the dinner is served.
Preparing the Tomato:
Cut from the center of a beefsteak tomato two slices of tomato 1/2 inch thick. Place the slices on a small side plate that has been lined with the top half of a washed leaf of romaine lettuce.
Plate Presentation:
Place the three lamb chops on a warm HMH [monogrammed] dinner plate. The bones should be pointing to the center of the plate. Spoon a little of the sauce over each chop and some to flow slightly onto the plate around each chop. Place the baked potato next to the chops with no sauce touching it. No butter is put into the potato. Real butter (not margarine or butter substitute) and salt should be served on the side. The peas and applesauce are placed in small bowls on the side.
When Serving:
When Mr. Hefner calls for his dinner, everything should be ready before cooking the chops. When the chops are completed, a butler should serve the meal immediately.
NOTE
Order from the butcher: a french-cut prime lamb rack weighing about 3 pounds.
Recipe copyright ©1994 Playboy Enterprises, Inc.
---
The recipe in this story has not been tested in the Gourmet kitchens.
Kelly Senyei is an associate editor at Gourmet Live and author of Food Blogging for Dummies (Wiley, 2012).