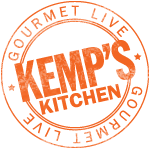 If you are one of those who vacation in the same spot every year, no doubt you know every possible route by heart, and the favorite local stops—diners, country stores, views—are nostalgic landmarks. For my family, Bethlehem, New Hampshire, is the halfway point on the various winding, two–lane roads we take across the state from I–91 in Vermont to our retreat on the eastern edge of the White Mountains near Gorham, New Hampshire. And until this year, I groaned to myself every time we reached Bethlehem, about 30 miles in, because that meant a stop while my husband hobnobbed with his favorite antiques dealers. (Me? I just wanted to get to the house and unload.)
During last summer's stay, I got wind of a new place in Bethlehem: Rennell's Ice Cream. I'd never heard of it, but no way was I going to miss it on the drive back to New York.
Despite a large green–and–yellow sign sporting a cartoon moose head and vertical banners screaming ice cream, Rennell's almost escaped our notice—it's in a wing of the Colonial Theatre (one of the oldest continuously operating movie theaters in the country) and is dwarfed and shadowed by the huge marquee. The landmark location no doubt has its benefits, we realized, as the shop's bright–purple screen doors swung open into a wide room comfortably cluttered with tables, chairs, and a padded bench along one wall.
Two words—coffee soft–serve—instantly grabbed my attention among the day's flavors handwritten on two giant whiteboards. I'm a softy for soft–serve and crazy for coffee ice cream in any form, but I'd never had it swirled from a soft–serve machine. Häagen–Dazs coffee ice cream has been the pinnacle by which I judge all others—and I can attest to some really wimpy versions out there—but one lick of Rennell's coffee soft–serve and I'd entered new territory, way beyond Häagen–Dazs. In that instant, Bethlehem became a must–stop for me. Smitten by that first cone last year, I concocted excuses to drop by Rennell's practically every day of a trip to New Hampshire earlier this month.
Rennell's soft–serve is nothing like the typical stuff dispensed from beach shacks or urban trucks; it's dense and holds its shape without melting into a puddle within a few seconds. "Most soft–serve has a bad rap," explained Maryanne Rennell, co–owner with her husband, Jeff, "because people throw in air and lower the fat content to 4 or 5 percent. Ours is 10 percent butterfat, the highest you can go in a soft–serve machine."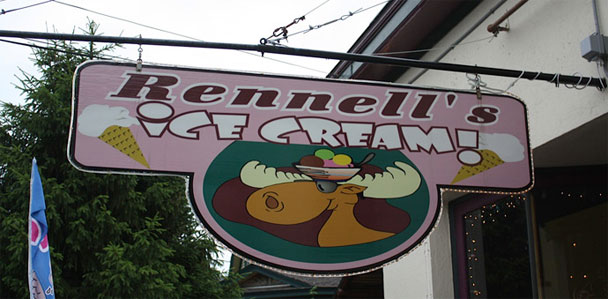 The real question for me was how an out–of–the–ordinary ice cream shop such as Rennell's came to be in Bethlehem, a town that, like so many others in northern New Hampshire, has waned since its resort heyday in the late 19th and early 20th centuries. Back then, Bethlehem could brag of more than 30 hotels, seven daily train arrivals, and extravagant summer cottages built by wealthy families. It was so well known for its clean mountain air—it claims to be the highest incorporated town east of the Rockies—that it was the founding site of the National Hay Fever Association. Today, Bethlehem is experiencing a slow rejuvenation, according to the town's visitors center. The Theatre District—the two–block area along Main Street around the newly refurbished Colonial Theatre—sports several restaurants, antiques stores, and a vibrant local–crafts shop sponsored by the Bethlehem–based Women's Rural Entrepreneurial Network (WREN).
"We were sitting around the woodstove at home, eating ice cream in February, when the idea came to us," Maryanne recalls. "Jeff was about to retire from teaching biology for 32 years at Profile, the regional high school here, and I told him he couldn't stay at home," she continued. "I knew I was going to miss the kids," Jeff noted, "and this way I'd see them and get to talk to them."
That was winter 2008, and the budding entrepreneurs shifted into high gear, sights set on a summer opening. Within weeks, however, Maryanne got the news that every mother dreads: Her only son and youngest child from a previous marriage, David "DJ" Stelmat, had been killed in Iraq, one month before he was due to come home. She describes him as a particularly special young man, a highly respected combat medic who was adored by his unit. DJ was laser–focused on becoming a physician assistant, and already had his eye on working in the ice cream shop during college summers after returning from the army.
As devastated as the family was and is, Maryanne and Jeff persevered, and the shop opened its doors just a few months later, in July '08. Naming the shop Rennell's was a no–brainer: Jeff—Mr. Rennell to his students—was a legendary teacher, one whom the students revered, so the name alone draws a large number of alumni customers.
At the outset, the couple knew nothing about making ice cream or running a shop, but Maryanne, a tax accountant, got great advice from WREN and from her sister, who runs a laundromat–café in nearby Littleton. And being a pro with numbers, Maryanne figured out that the artisanal approach—sourcing milk and cream locally—would be hard to achieve while still keeping the ice cream affordable for their customers. She settled on starting with a mix, then flavoring it themselves. After trying several mixes, Maryanne selected Hood's, which has a high butterfat content, for Rennell's soft–serve as well as the hard, scoopable variety that they also sell. (The hard ice cream mix has 14 percent butterfat.) The mix comes as a ready–to–use liquid, which Maryanne then adapts and enhances with local berries and maple syrup, Ghirardelli cocoa, coffee, and the like. What she doesn't add is sugar.
Of all the secrets she's learned, Maryanne willingly divulged only one: Pure Madagascar vanilla extract goes into every ice cream flavor, hard and soft. "You won't discern it," she explained, "but you'd notice if it wasn't there." In the summer, she goes through as much as a half gallon of vanilla extract each week. "The extract in the [hard] ice cream needs to cure at least a day," explained Maryanne. "It's like a stew that gets better a day later." That means that every batch has to sit in the freezer for 24 hours. "I'd rather say I'm out of [something] than serve it too soon," she confided.
In January 2010, Maryanne attended the weeklong intensive Ice Cream Short Course at Penn State University. "I'm glad I waited until after I'd been making ice cream for a while, because I had so many questions," she said. "It was ice cream chemistry." At lunch, her fellow students vied to sit at her table so they could grill her on her expertise.
I'm not the only one who is obsessed with Rennell's coffee soft–serve. During the first summer of operation, strawberry and vanilla swirled from one of the two soft–serve machines (the other one always has chocolate and vanilla). When the weather turned cooler, Maryanne wanted something different, so she tried coffee. The coffee was such an instant hit that strawberry will never make it back into the machine. And with chocolate in the neighboring spout, there's the option of a coffee–chocolate combo. "Coffee is my biggest seller, and it has to be available every day." It is: Rennell's is the state's only ice cream shop north of Plymouth that's open year–round. And when you go, be sure to tell 'em Kemp sent you.
Rennell's Ice Cream, 2050 Main Street, Bethlehem, N.H.; 603-869-5888