I'll dispense with the hamburger's early history, starting in the 13th century with the Mongols and their affinity for shoving raw mutton steaks under their saddles to tenderize the meat as they rode. And much has been said of the Germans, who, in the 18th century, cooked minced meat in patty form for apparently the first time. This became popular in the city of Hamburg, and thus it was called the Hamburg steak. As far as I'm concerned, the real history of the hamburger begins in America.
The Hamburg steak (served on a plate, not a bun) made its way to the New world and was considered comfort food for recent arrivals from Europe. In the 1830s the dish made it onto the menu at Delmonico's, in New York City, America's first real restaurant. Then the details get foggy.
First, let's be clear on what we're talking about: A hamburger should be defined as ground beef, formed into a patty, cooked and placed on a bun. A Hamburg steak was not a hamburger; the absence of the bun points to this. The claims to the birth of the American hamburger are vast, mostly unproven, and they all seem to have occurred around 1900. Some say Fletcher Davis in Texas was the first to marry a beef patty to bun, others point to the Menches brothers from Ohio, and another claim comes from Wisconsin and Charlie Nagreen. Unfortunately, all of these pioneers of the American hamburger lacked a brick–and–mortar existence and were transient cooks at their respective state fairs. Very little is documented.
The strongest claim to the birth of the hamburger comes from Louis' Lunch in New Haven, Connecticut. Five generations of Lassens have been serving burgers on toast since 1900, and their business is still in operation today. But is it a burger if not on a bun?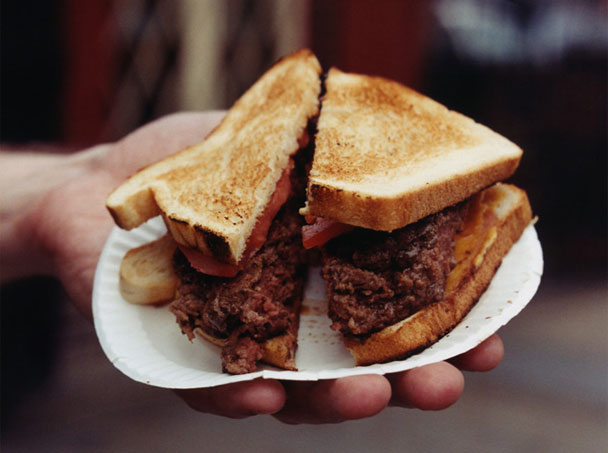 Louis' Lunch—New Haven, CT
The most fascinating part of hamburger history that barely gets discussed begins in 1921 with the birth of White Castle. Up to this point, the hamburger was seen as dirty food for wage earners served by shady short–order cooks in makeshift sidewalk kitchens. Walt Anderson was one of these cooks and had caused a stir on a corner in his tiny three–stool burger stand in downtown Wichita, Kansas. Entrepreneur Billy Ingram saw potential in the tiny onion–laced burgers Walt was bagging for a steady stream of customers and offered to help him expand. By the end of the 1920s, there were 116 White Castles in 12 cities. More important, though, in only ten short years White Castle had turned a previously shunned food into an iconic American food staple.
What made White Castle unique was the attention paid to detail and hygiene. The chain saved the burger and turned it into a food item that was enjoyed by all, free from socio–economic boundary. White stood for cleanliness while Castle conjured strength. It was only a matter of time before the burger model was copied, and for the next two decades, thousands of "white" burger joints popped up all over the country, with names like White Diamond, White Way, and their largest competitor, White Tower. Today, a few of those gems survive—White Manna, White Rose, and White Hut, among others—and, not surprisingly, they are still serving tiny burgers made from fresh ground beef with onions smashed into them. Unfortunately, White Castle, the brand that saved the burger from extinction, has since lost its way, serving lackluster frozen versions of its game–changing slider.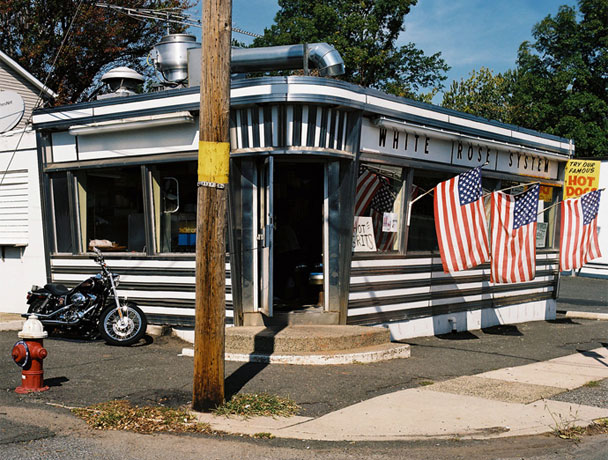 White Rose System—Linden, NJ
But it wasn't all White Castle's fault. Surviving the double whammy of the Great Depression and World War II rationing in the '30s and '40s meant drastic measures and huge sacrifices. Many of their competitors failed, but the end of the war brought prosperity to America. Simultaneously, as the car culture expanded so did the desire to dine in your car.
Drive–in restaurants with carhop service to your parked car grew in popularity. In 1948 the brothers McDonald of San Bernardino, California, took a huge risk and did away with carhops at their popular burger stand in the name of efficiency. They believed that carhops slowed business down too much—and they were right. At first, the customers rebelled, but the idea eventually caught on. The McDonald brothers had revolutionized the burger business overnight, and the competition followed.
In that same year in nearby Baldwin Park, Harry Snyder was putting the finishing touches on his new invention—the drive–through, complete with a speaker system to talk directly to the kitchen. His In–N–Out Burger would lead the charge into the future by offering a service that tens of thousands of Americans still enjoy every day.
The burger's rise also encountered the need to innovate, and the first to make a splash was Bob's Big Boy in Glendale, California. In 1937, Bob Wian created a double–decker burger that would be imitated for decades following. The notion that bigger was better had begun.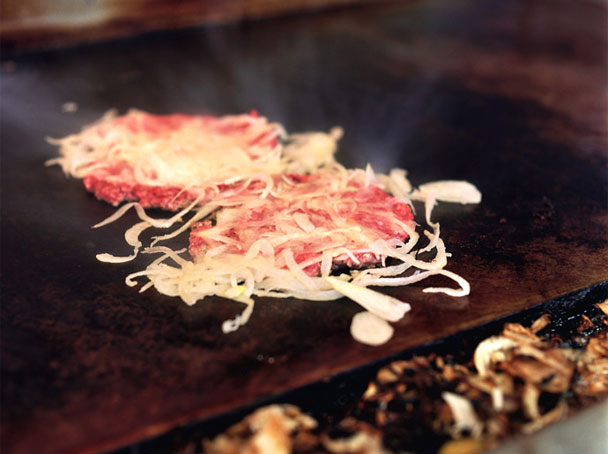 Sid's Diner—El Reno, OK
Fast–forward to the present, where the big chain burger purveyors have diversified and are now selling items like fruit smoothies and renting DVDs (such as McDonald's). All of the large–scale chains can trace their roots to tiny joints serving fresh ground beef, but today most are barely a shadow of their former selves.
The proliferation of the fast–food burger and a new availability of high–quality meat created a backlash, fomenting an urban revolution. In 2001 New York City's Daniel Boulud created a gourmet burger made from the freshest ingredients and stuffed it with braised short ribs and foie gras. It was served on a specially made Parmesan bun, cost $29, and was gobbled up by an appreciative upscale crowd. Many complicated burger creations by celebrity chefs followed and the simplicity of the original was lost.
A recent correction occurred, and suddenly old was new again. Five Guys, serving downscale, fresh–beef burgers in the D.C. area, began to open across the country in 2003 and today boasts more than 750 locations nationwide. And the new chain Smashburger, using methods very similar to the White Castle of 1921, opened in Denver in 2007.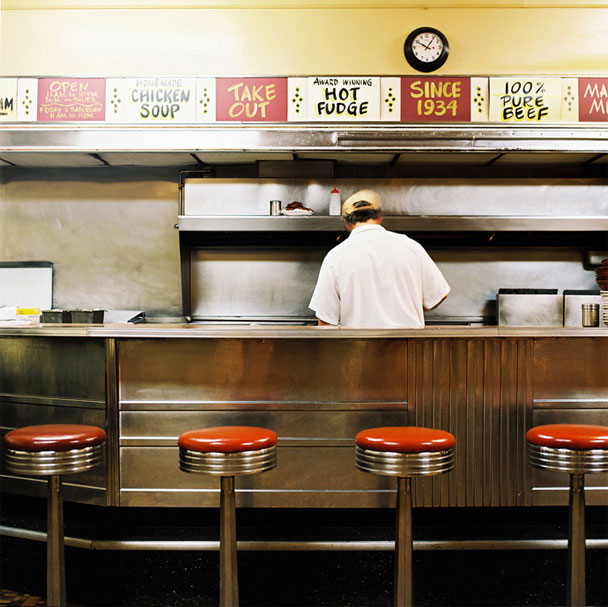 Convention Grill—Edina, MN
I've heard from people close to me that the recent meteoric rise of the hamburger's popularity will soon wane and the burger will be relegated to the list of such fads as the Bloomin' Onion. I have a hard time believing this. The burger has always been America's favorite comfort food and will be around forever.
So between the myriad gourmet burgers available in every major city and the relentless march of the frozen and the fast–food, remember to stop and take in the surviving mom–and–pops across America. They are the primary sources for the All–American burger, a roadmap back to its original DNA.
---
George Motz is America's foremost authority on hamburgers. His documentary Hamburger America was made into a book, an iPad/iPod app, and soon to be a television series. You can read more about Motz on his site Hamburger America.